Jane Philpott resigns from Federal cabinet
Treasury Board president Jane Philpott has resigned from the federal cabinet, saying she's "lost confidence" in the way the Trudeau government has dealt with the SNC-Lavalin affair.
Philpott's resignation comes just less than a month after former attorney general Jody Wilson-Raybould resigned from cabinet amid allegations that the Prime Minister's Office had improperly pressured her to stop a criminal prosecution of Montreal engineering giant SNC-Lavalin.
"Sadly, I have lost confidence in how the government has dealt with this matter and in how it has responded to the issues raised," she stated in the open letter. "I have been considering the events that have shaken the federal government in recent weeks and after serious reflection, I have concluded that I must resign as a member of cabinet."
Philpott was first elected in 2015 and has held three different ministerial portfolios: Health Minister, Indigenous Services Minister, and was then shuffled into the role as Treasury Board President in January.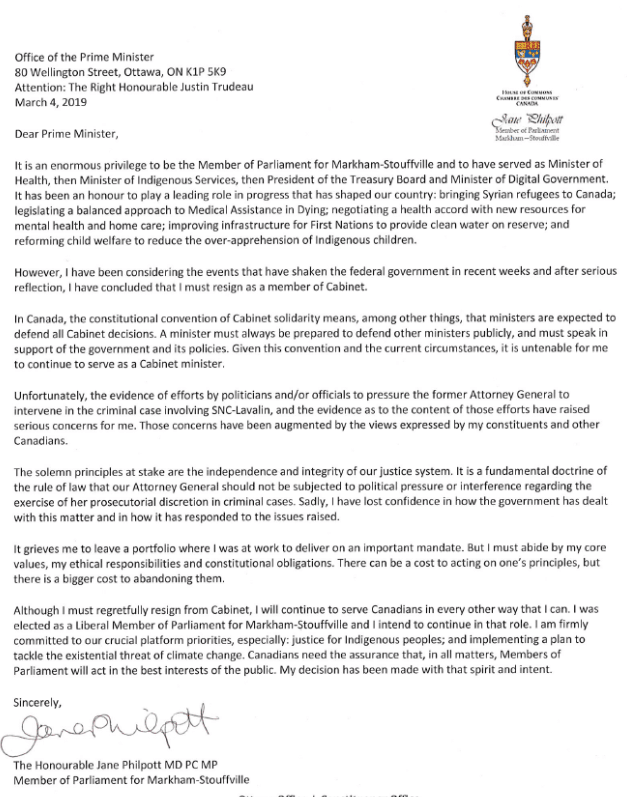 See statement here: https://t.co/5cjfLUqNhS

— Jane Philpott (@janephilpott) March 4, 2019