Calgary invites football fans around the country to 'experience the energy' at Grey Cup 2019
Calgary will be party central when the City hosts the 107th Grey Cup in November.
On Thursday, in the Boyce Theatre at Stampede Park, logos for the game and festival were revealed at Stampede Park, along with some details on special attractions to keep everyone entertained before the big game.
The Grey Cup logos will also feature Calgary's skyline and the Three Sisters mountain range, while the festival logo reads "Experience the Energy."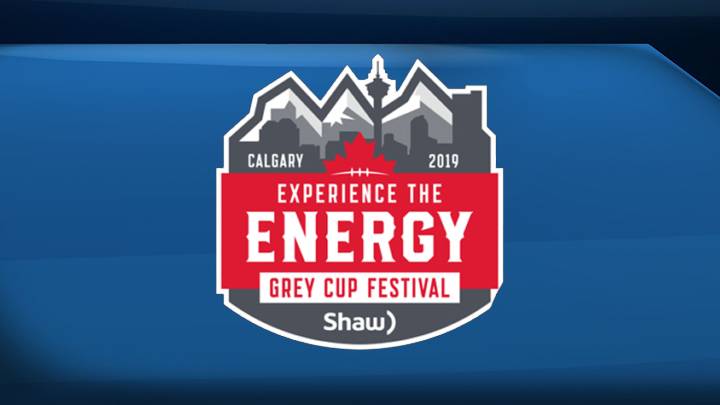 When it comes to the planned activities, there will be more than 40 scheduled events at Stampede Park, beginning on Nov. 20.
Every single night of the festival will feature an end of night fireworks display.
There will be a 140,000 square foot outdoor street festival, including a number of activities and attractions, such as the Stratosphere Projection Dome, a 65-foot tall inflatable screen where 360-degree projections will be displayed.
Organizers are also planning ahead, just in case of bad weather.
The Saddledome will be the location of both the Grey Cup Gala and the CFL Awards.
The first-ever Grey Cup Rodeo will be at the Corral and will be capped off with a "significant concert".
The big game at McMahon Stadium will take place on November 24th, with Calgarians hopeful the Stampeders will make a fourth straight trip to the finals.
Tickets for the general public go on sale May 7. You can also go to greycupfestival.ca for more information.
"Calgary knows how to throw a party" - CEO of Tourism Calgary, Cindy Ady.

Full video➡️ https://t.co/xtaaMJytaE#ExperienceTheEnergy pic.twitter.com/XQur4BU4th

— 109th Grey Cup (@GreyCupFestival) March 7, 2019
"I want to encourage all Calgarians, get out for the festival, come down here to Stampede Park, there's great stuff for the kids, there's great ways to show off Calgary, and you'll meet wonderful people from across the country." - @nenshi pic.twitter.com/IPwEjPG6Uz

— 109th Grey Cup (@GreyCupFestival) March 7, 2019