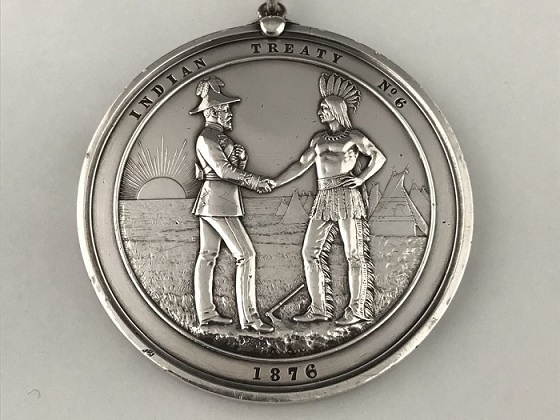 The Treaty 6 Medal Photo: Manitoba Museum Saskatoon
Red Pheasant has been in the process of negotiations with the Manitoba Museum to repatriate the medal since 2002.
It has been part of a collection of artifacts at the Manitoba Museum since 1994.
The Treaty 6 medal will soon be returned to the Red Pheasant Cree Nation by the museum as part of a public ceremony on Thursday.
It was initially presented to Chief Red Pheasant by the Crown in 1876 at Fort Carlton. However in 1885, the medal was stolen from the body of Chief Pheasant by an Indian Agent before his funeral. It was acquired by the Hudson's Bay Company in the 1950s and ended up among more 25,000 artifacts in the Manitoba Museum's Hudson's Bay Company Collection.
After a few inquiries, the museum received a formal request for repatriation from the First Nation in the fall of 2018. After some consultation, including a visit to the museum by the band council and community elders, the Manitoba Museum's board of governors granted the First Nation full ownership of the medal on June 20.
The chief and council intend to share the medal with the larger community.
It will be available for viewing at the Saskatchewan Indigenous Cultural Centre in Saskatoon starting on July 8.