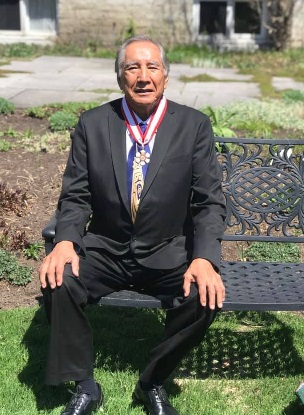 "A good leader looks at things from a different angle, always changes the conversation and attempts to build a good foundation and work themselves out of existence." - Dr. Leeroy Little Bear
An Indigenous education leader from the Blood Tribe in Southern Alberta was honoured earlier this year.
Dr. Leroy Little Bear, a founding member of the nation's first university-based Native American Studies program, was named to the Order of Canada.
Now serving as a special adviser to the president of the University of Lethbridge, Little Bear has earned recognition as an international scholar and a speaker, as well as a pioneer in advancing post-secondary education for First Nations students.
His latest honour, announced in Ottawa, follows an Alberta Order of Excellence citation, a "Key to the City" presentation by Lethbridge City Council, and honourary degrees from the U of L and the University of Northern B.C.
Little Bear was also named "Distinguished Alumnus of the Year" by the U of L's alumni association in 2003 and was presented the U of L Speaker Research Award in 2017.
In 2003, he also received the National Aboriginal Achievement Award for Education.
Angela Gee :
"Excellence is no accident.. it is intentional with the heart and mind. So thankful to be on this journey with you. I don't know why Creator blessed us so much with you, but I am eternally greatful to call you my father. Congratulations to the Right Honorable Dr Leroy Little Bear (Iikaiskanii/ Kainai) in receiving the Order of Canada"