Indigenous mural unveiled at University of Calgary
The University of Calgary's Nursing Faculty has unveiled a mural by Blackfoot artist Kalum Teke Dan, that was recently commissioned by the faculty.
Increasing the number of Indigenous nurses is one of the Truth and Reconciliations calls to actions.
Co-director of Indigenous initiatives in the nursing faculty, Heather Bensler says that students went to the opening of the new Calgary Central Library, and met with three Indigenous artists, one of them was Kalum Teke Dan, he was the artist who agreed to paint this mural.
The mural is located at the University's Gathering Space, which is designed to be a place for Indigenous nursing students to study, regroup, and connect.
The school currently has eight self-identified Indigenous students enrolled in the program.
Check out Kalum Teke Dan's work on his website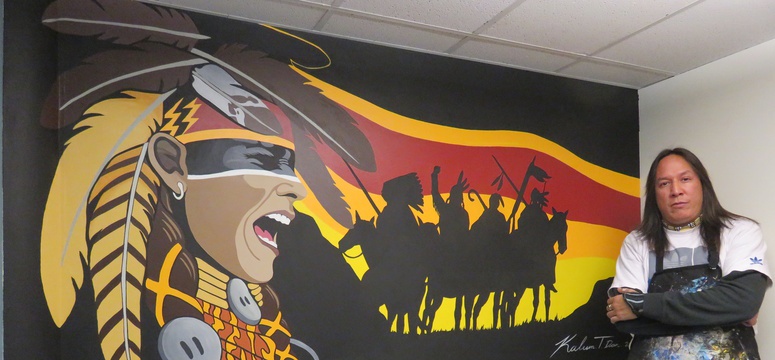 Artist Kalum Teke Dan stands beside his recently-completed mural. Faculty of Nursing photo