Orange Shirt Day is an outcome of the 2013 Joseph Mission Residential School Commemoration Project and Reunion in Williams Lake, BC, where Phyllis Webstad spoke of how her new orange shirt was taken away, and how it seemed that nobody cared.
Her story represents the many harms experienced by children in the Residential Schools, and Orange Shirt Day has grown to provide the opportunity to discuss all aspects of Residential Schools and to help continue the work of Reconciliation.
In addition to simply wearing an orange shirt on September 30, this annual event encourages Canadians to learn about the history of residential schools. Many communities have held memorial walks, film screenings, and public lectures to raise awareness about Indigenous history
Attend one of the Orange Shirt Day events in Alberta
Sept 30
University of Alberta, McMullen Art Gallery
8440 112 St NW
1:30-3:30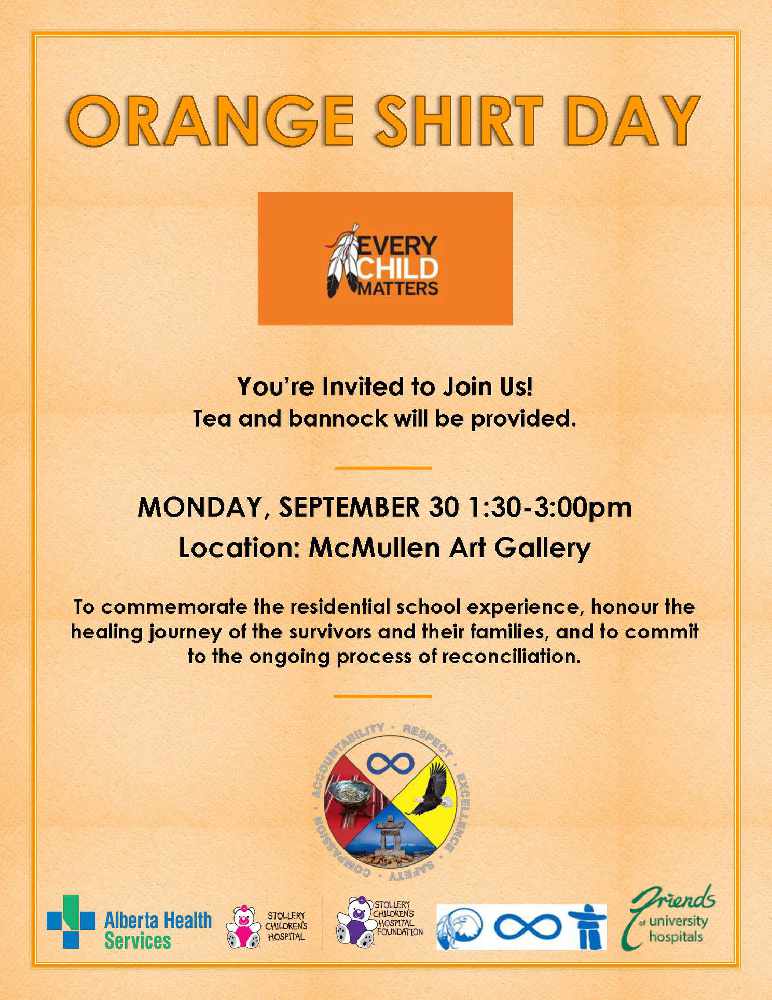 Monday Sept 30, 1-3pm
Understanding Indigenous Identity- Bannock and Learn
Join Edmonton Public Library for our Free Bannock and Learn session on Understanding Indigenous Identity in honour of Orange Shirt Day and Access to Justice Week.
Edmonton Public Library - Millwoods Branch
Bannock will be provided.
Monday Sept 30, 10am-1pm
MacEwan University kihêw waciston
7-131, 10700 - 104 Avenue NW
Join us at kihêw waciston on Orange Shirt Day, 10 am to 12 pm Monday, September 30, 2019, for Traditional Teachings and a Sharing Circle with Elder Francis Whiskeyjack
Pipe Ceremony - 3 p.m. (feast to follow) at kihêw waciston, Rm. 7-131
Round Dance - 6 p.m. to 10:30 p.m. in the Gymnasium


Oct 3, 11:30 - 1:15pm
Calgary Central Library
Speakers will include Residential School Survivor and Orange Shirt Day Founder Phyllis Webstad, other Residential School Survivors and government officials. Enjoy performances from traditional dancers and musicians.
Monday Sept 30, 11:30 - 1:30pm
Grande Prairie Friendship Centre, 10507 98 Ave
Event will include keynote speaker, smudging, free lunch, a selection of the Library's Indigenous authors, Every Child Matters buttons will be available and unveiling of a memorial. Past, present, future - keynote speakers of different generations will share their stories of residential school impacts to help create awareness, empathy and hope.