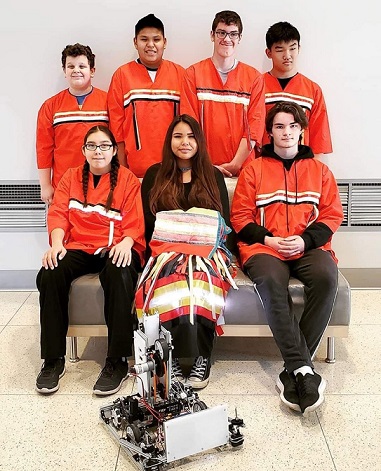 The teams called GearHeads and I'myanistsitapikoan are representing Canada in the competition
IndigeSTEAM is a program that supports youth in science, technology, engineering, arts, architecture, agriculture and math
Team GearHeads and I'myanistsitapikoan will represent Canada at the robotics competition this week in Dubai.
Organizers say more than half the team is made up of Indigenous youth from Alberta.
Youth from Siksika First Nation, Kainai First Nation, Waterhen Lake First Nation in Saskatchewan and Metis from Calgary will compete.
It runs Oct. 24 to 27, with entrants from 193 countries.
The Global Robotics Challenge provides a framework for young people to develop their capabilities in science, mathematics, technology and innovation through a competition to develop robots.
It has been structured to enable youth to acquire the tools, skills and expertise to design robots, shape their individual futures and contribute to the global efforts trying to solve some of the biggest challenges and most pressing issues in vital sectors, such as water and energy.