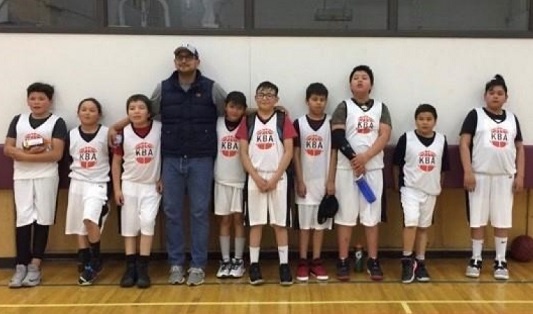 Coach Truman Soop and members of the under 11 Kainai Basketball team
"They're just kids, I don't get it. What have they done?" - Event organizer Tony Tan
40 Young basketball players from the Kanai Nation will be able to play in a basketball tournament this week, despite a dispute with a Calgary referee group.
Coach Truman Soop said he was initially told last Saturday by event organizers that all Kainai's teams had been removed from the tournament, which runs July 5 to July 7 in Calgary.
In a statement, the Calgary Basketball Officials Association said it experienced an "undescribed incident earlier this year that it felt had jeopardized the safety of its referees."
However, on Tuesday, the association changed it's mind, informing Soop, the teams were allowed to play after all, when organizers made plans to use referees that aren't part of the CBOA for its games.
Players from the Kainai teams, who are between eight and 15 years old, were ecstatic to find out they could participate in the games.
Event organizer Tony Tan has hired private referees from outside Calgary to supervise the Kainai games. He said some were "sick to their stomach" when they heard about the situation.
Soop said the teams do not get any funding and the youth spent months fundraising to be able to play in the tournament.
The tournament, featuring 58 teams from all over western Canada, starts on Friday.