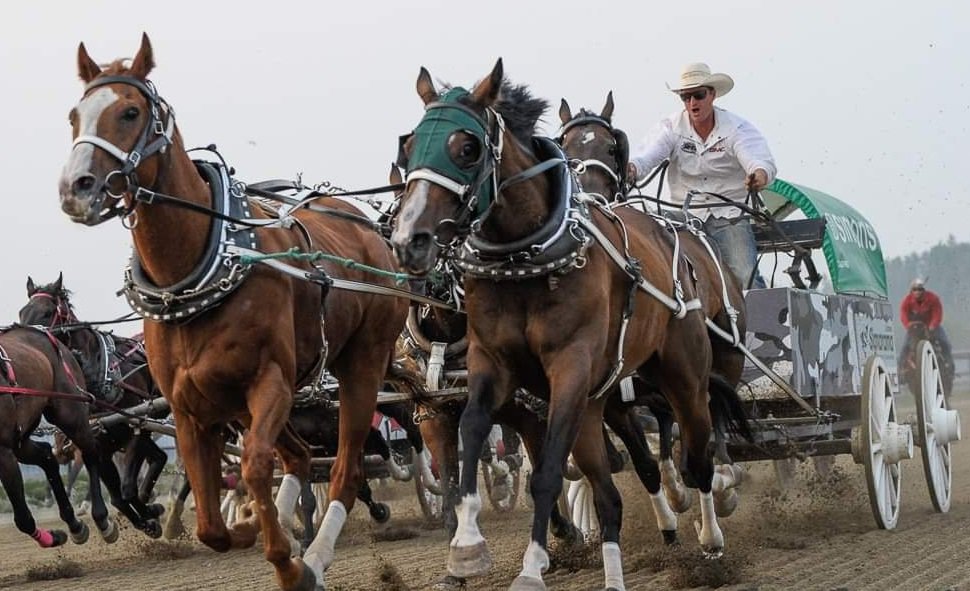 The conclusion of the WPCA Pro Tour will see more than $300,000 up for grabs and four titles on the line.
The 2019 Century Downs World Finals are underway in Calgary.
The first title will be the Century Downs aggregate winner, which involves all 36 WPCA drivers.
Meanwhile the 2nd and 3rd titles on the line will be World Champion Chuckwagon Driver and World Champion Outride.
The final title up for grabs is the Century Downs Winners Zone Champion which features the top 12 WPCA drivers competing for the crown.
The 12 drivers taking part include Vern Nolin, Kurt Bensmiller, Logan Gorst, Codey McCurrach, Kirk Sutherland, Mark Sutherland, Luke Tournier, Cody Ridsdale, Ross Knight, Chanse Vigen, Layne MacGillivray and Jordie Fike.
Day 1 on Wednesday saw Roger Moore and Chanse Vigen have the early advantage following the opening day of competition.
Moore had the fastest time of Day 1 out of all 36 WPCA Drivers. He finished with a time of 1:23.16.
Chanse Vigen had the 3rd fastest time of the day at 1:23.45.
However, that was the fastest time of the 12 drivers competing in the "Winners' Zone" Championship.
He leads in the "Winners' Zone" Championship with 12 points.
Day 2 of the competition goes Thursday night at 7:00 p.m.