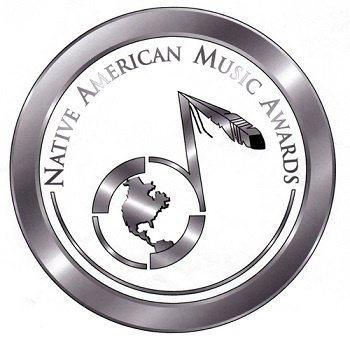 The annual awards celebration is scheduled for November 2nd in Niagara Falls, NY
Each year. the annual Awards program features over one dozen mesmerizing and dynamic performances by some of today's leading Native American artists along with 30 awards presentations including; Lifetime Achievement and Hall of Fame. The Awards show is an extraordinary and unprecedented celebration of today's best contemporary and traditional music.
Murray Porter, from the Six Nations of the Grand River in Ontario, is nominated in 2 categories 'Best Male Artist' & 'Best Blues Recording'.
Featured live music performances include: DJ Shub (Mohawk), a former member of a Tribe Called Red, Kelly Derrickson, Joanne Shenandoah, NDN Cars' Keith Secola and more!
This year's awards show is co-hosted by actor Wes Studi (Cherokee) and professional wrestler Micki James (Powhatan tribe)
You can vote in each category here
Artist of the Year
Bear Fox (Mohawk) – Life Blanket
Murphy Platero (Navajo) – Butterflies, Horses and Guitars
Shelley Morningsong (Northern Cheyenne) – Simple Truth
Tonemah (Lumbee) – Red Dirt Remark
Vince Redhouse (Navajo) – A Distant Star
Wade Fernandez (Menominee) – Journey of the Heart

Best Female Artist
Blanca Iris Acuna (Taino) – Poets Ocean
Desja Eagle Tail (Crow/GrosVentre) – What Do I Got To Do
Jiiniikwe Medicine Bird (Bay Mills Anishinabe, Hunkpapa Lakota) -Destiny/Infinite Web
Koli Kohler (Hoopa, Yurok, Karuk) – How I Am
Marcia Chum (Cree) – Undone
Shon Denay (Oglala Lakota) – On The Rocks
Best Male Artist
Herman Cody (Navajo) – Life On The Rez
Joe Tohonnie, Jr (Apache) – Journey Into A New Direction
Louie Gonnie (Navajo/Zuni) – Night Side
Lowery Begay (Navajo) – Touching The Sky
Murray Porter (Mohawk) – Stand Up!
Nahko (Apache) – Dragonfly
Record of the Year
A Distant Star – Vince Redhouse (Navajo)
Brother Hawk – Calvin J. Standing Bear & James Torres Red Tail Chasing Hawks (Sicungu, Oglala)
Colors of the Rainbow – Alexandro Querevalu' (Quechua)
One Earth World Fusion Music – Various Artists
Ongtupqa – Clark Tenakhongva, Gary Stroutso, Matthew Nelson (Hopi)
Parallel Universe – Joseph FireCrow ( Northern Cheyenne), Thomasina Levy, David Darling
Red Dress Special – Young Spirit (Plains Cree/Various)
Song of the Year
Ancestors Song – Stl'atl'imx & Friends (St'at'imc)- The Kindness Project
Clouds of Sunset — Alexandro Querevalu' (Quechua) from Colors of the Rainbow
Looking For The Light – Irv Lyons Jr (Oneida)
Shine – Sihasin (Navajo)
SaVivor – Night Shield (Rosebud) featuring Wellington Downz & Cody Blackbird
This is Our Song- The Spiritual Warriors (Interior Salish Lil'wat) – Ancestors
Walk In Beauty – Joseph FireCrow ( Northern Cheyenne), Thomasina Levy, David Darling from Parallel Universe

Best Country Recording
A Miner's Prayer – Matt James (Ojibway)
How I Am – Koli Kohler (Hoopa, Yuroh, Karuh)
K Town – D Johnson (Navajo)
What Do I Got To Do – Desja Eagle Tail (Crow/N.Cheyenne/Seneca/Cree)
Red Dirt Remark – Tonemah (Lumbee)
Way Out West – Marty Stuart (Choctaw)

Best Pow Wow/ Drum Recording
Love, Life, Round Dance – Young Spirit (Cree/Various)
Medicine Horse – Cree Confederation (Cree/Various)
Nitisanak: Brothers and Sister – Northern Cree (Cree/Various)
Red Dress Special – Young Spirit (Plains Cree/Various)
Songs – Thoz Womenz (Intertribal)
When It's Cold – Northern Cree (Cree/Various)