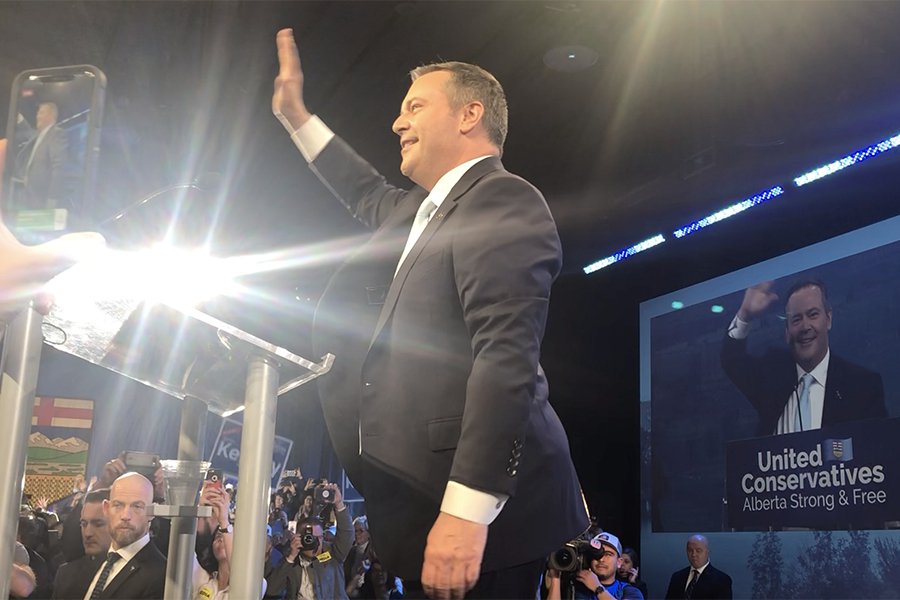 Jason Kenney waves to supporters following his landslide victory in the Alberta election. Photo: Calgary Herald
Premier Designate Jason Kenney and his new United Conservative Government, will be sworn in on April 30

The United Conservative Party (UCP) easily won a majority government, making leader Jason Kenney the Premier-elect. The unofficial results as of late Tuesday night has the UCP winning 63 seats and the New Democrats 24 seats.
Kenney told supporters in his speech in Calgary "today we begin to fight back."
He also spoke to Alberta's Indigenous business sector.
NDP Leader Rachel Notley won her seat in Edmonton but the number of other former cabinet ministers joining her will be reduced. The out-going premier expressed her thanks to supporters and said she is happy with the changes her party was able to make during their one term in office.

Notley confirmed that she would stay on as leader of her party and the opposition in the legislature to hold Kenney accountable.


David Khan, leader of the Alberta Liberals, lost his seat in Calgary-Mountain View to the UCP, as did Alberta Party leader Stephen Mandel.
The votes will not be official for a few days as advanced ballots still need to be counted.
Prime Minister Justin Trudeau also released a statement late Tuesday, congratulating Alberta's new premier
Follow Election Alberta's unofficial poll results
Congratulations to Jason Kenney, Premier elect. I look forward to working with the new prov gov. I commit to continuing to advocate vigorously for respect and recognition of First Nations rights as well as calling for action on issues that matter to First Nations.#StaytheCourse

— AFN Alberta Region (@AFNAlberta) April 17, 2019