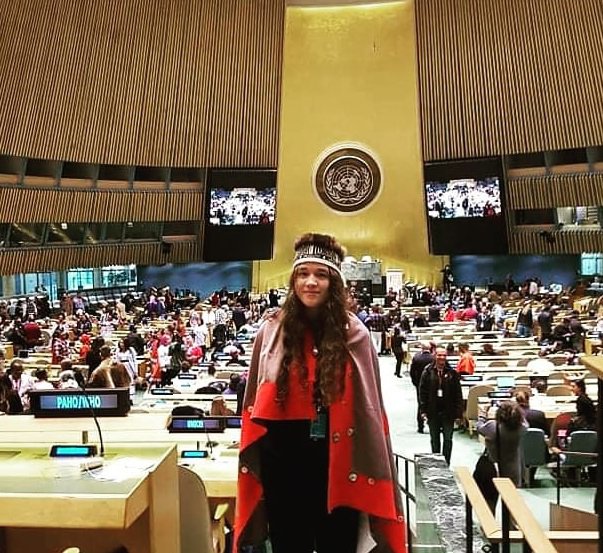 Haana Edenshaw, a youth from the Haida Nation in BC
"Indigenous leaders are forced to turn to international forums like the UN and go to court to protect what should be considered the most Canadian of Canadian things: a language that is born, lives, and speaks primarily about this place"
Indigenous leaders from Canada were in New York City recently, to represent their communities at the 18th United Nations Permanent Forum on Indigenous Issues.
Some of those In attendance, included members of the Manitoba Métis, Liberal MP Dan Vandal and former NHL star Reggie Leach.
Federal Minister of Indigenous-Crown Relations Carolyn Bennett also made the trip, as did Inuit singer Kelly Amaujaq Fraser, who live-tweeted her time at the Global Indigenous Youth Caucus.
The forum, which carries the theme of Traditional Knowledge: Generation, Transmission, and Protection, takes place until May 3 and features tens of thousands of Indigenous leaders from across the world speaking on such topics as land claims, environmental preservation, and law.
At the top of this list is Indigenous language revitalization, an issue so pressing that the United Nation declared 2019 the Year of Indigenous Languages.
Indigenous languages throughout the world are endangered. As of now, 96 per cent of the worlds 6,700 languages are spoken by three percent of the peoples. Four thousand of these languages are classified as Indigenous and estimates state that, due to the decision countries make to favour languages like English, Spanish and Mandarin, Indigenous language use is rapidly declining.
It is now estimated that one Indigenous language "dies" per week. A language, of course, doesn't die – the people who use it do.
The annual UN forum, began April 22 and runs until May 3
Haana Edenshaw, a youth from the Haida Nation in BC, gave a powerful speech on sustainable development at the United Nations today on behalf of the Coalition for the Human Rights of Indigenous Peoples.