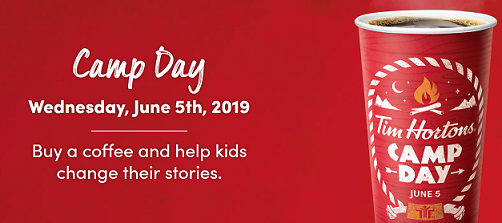 On June 5th, 100% of proceeds from all coffee purchases at Tim Hortons restaurants will support Tim Hortons Foundation Camps, helping disadvantaged kids achieve their potential
On June 5, your coffee can help make a difference in the lives of youth from disadvantaged circumstances across the country. On Tim Hortons Camp Day, restaurant owners will donate 100% of proceeds from every brewed coffee purchased in Canada to Tim Hortons Foundation Camps.
Tims Camps support youth from low income homes between the ages of 12 to 16 – an important developmental time that helps shape who they will become as adults. Youth learn skills like leadership, resilience and responsibility, which empower them to believe in their own potential and change their stories for the better.
In Southern Alberta, Tim Horton Children's Ranch in Kananaskis Country continues to welcome approximately 3,000 children each year.