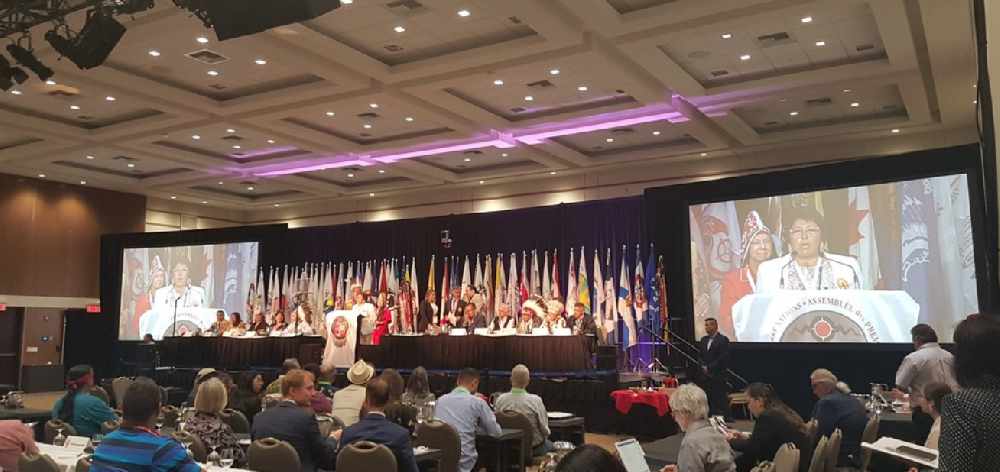 This year's theme is 'Celebrating Successes and Giving Thanks'.
First Nation leaders from across Canada are in the New Brunswick capital for the three-day event, a chance to discuss Indigenous issues and the challenges facing Canada and its relationship with First Nations.
A pipe ceremony opened the general assembly, followed by an exchange of water ceremony, where six participants travelled by canoe along the St. John River to give thanks to the body of water. About 60 people, including chiefs and members of the public, were in attendance.
Carolyn Bennett, minister of Crown-Indigenous relations and northern affairs, will address the assembly before the discussion session begins.
The AGA will feature discussion and decision-making on key priorities for First Nations. The AGA will include honouring ceremonies for Autumn Peltier, the former Chair of the AFN Women's Council Denise Stonefish, First Nations veteran Phillip Favel and others.
Delegates will hear from federal representatives including Green Party leader Elizabeth May, NDP representative MP Guy Caron, Minister of Indigenous Services Seamus O'Regan and the Parliamentary Secretary to the Minister of Canadian Heritage and Multiculturalism, Gary Anandasangaree.