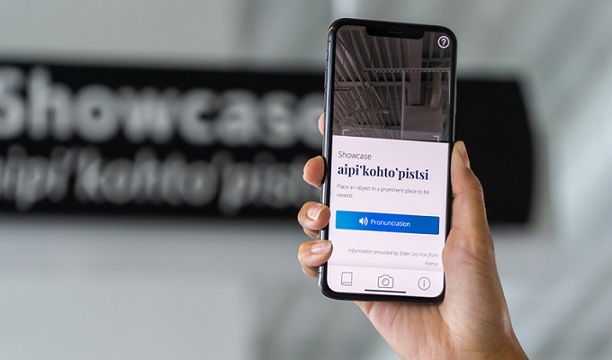 The new app uses augmented reality to translate Blackfoot into English
"Having Blackfoot language here is a signal, largely to Blackfoot students and Blackfoot people who walk into our space that this space is for them, but it also signals to other Indigenous people that this is a place where Indigenous knowledge is important."
The new app uses augmented reality to translate Blackfoot signage in the Riddell Library and Learning Centre into English. Blackfoot way-finding signage was installed when the RLLC was built in 2017, and the app helps non-Blackfoot speakers understand the meaning behind the words.
Librarian Jessie Loyer says the signage and app are about 'place-making.'
"Indigenous languages generally haven't been supported and they are really important for us to ground ourselves in the place that we are working and living in. This is the language of the land that enables us to do our work."
The app – called DeciphAR – includes an audio pronunciation guide, a video with elder Leo Fox from Red Crow College in Lethbridge, as well as descriptions of the terms. Library media designer Matt Laidlow, part of the team that helped with the project, says, "For a lot of the translations there's not a one-to-one English to Blackfoot word, so it's more about the concept, kind of relating to the English word."
The first time a user opens the app there's a tutorial on how to use it. Signage throughout the building includes QR codes that people can scan with their phones, which will take them to the iOS or Android app stores to download the free app.