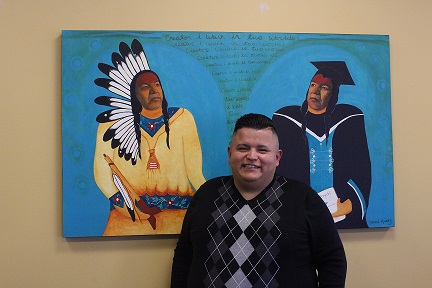 The award is given to a Calgarian who builds relationships with the Indigenous community and is a leader among peers.
Steve Kootenay-Jobin is the Housing and Events Coordinator for the Iniskim Centre at Mount Royal University, where he helps Indigenous students find campus housing, organizes cultural events, and supports Indigenous students while they attend school. He also works with faculty and staff at the university on cultural training, and ensuring that the school is accessible and inclusive for all students.
In addition to this work, Kootenay-Jobin also serves on several committees at Mount Royal University, and in the Calgary community. These committees are involved in diversity, human rights, murdered and missing Indigenous women, mental health awareness, and cultural awareness.
Last May, Kootenay-Jobin was on the Walking With Our Sisters Committee that organized the two-week long art installation at Mount Royal University. Walking With Our Sisters was a commemorative art installation that honoured the lives of missing and murdered Indigenous Women of Canada and the United States. The exhibit also acknowledged the grief and torment that the families of these women continue to suffer, and it raised awareness of this issue and created opportunities for the community to openly talk about the issue of murdered and missing Indigenous women.
"My late grandmother, Beryl Kootenay inspired me," says Kootenay-Jobin. "She worked tirelessly for her people, and her community, and I want my work to make her proud. I am the third generation of Kootenays that has worked in Wîchispa Oyade (Calgary), serving the urban Indigenous community and people of Treaty 7. I'm also very proud to be the first Iyarhe Nakoda to win this award."
The ceremony for the Chief David Crowchild Memorial Awards will be held on Thursday, June 20 at 12:00 p.m. in the Atrium of the Municipal Building.
The event is open to public and all are welcome.