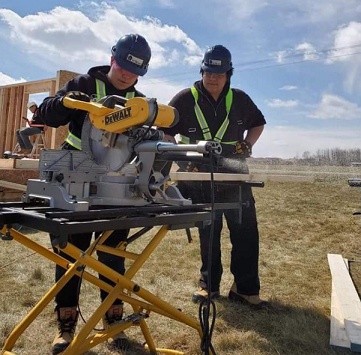 Photo: YCHomes
"We always want our elders to be able to help guide the youth, this is a turnaround. Our youth are leading the project to build homes for them." - Ermineskin band councillor, Jason Makinaw
36 high school students in Maskwacis are taking on the lack of housing on the Samson Cree Nation by building custom, tiny homes from the ground up.
The students are taking part in a program that will have them earn important credits while helping elders in the community.
Six to eight new homes will be built near the Maskwacis townsite, on former powwow grounds, and the credits can be put towards an apprenticeship in the construction industry.
For every six hours of classroom learning, students will receive six hours of hands-on experience.
Your choice Homes, a mobile company that specializes in building housing through educational opportunities, is running the Journey To Apprenticeship program.
YCHomes began building homes for First Nations in Saskatchewan, and have since grown to programs outside that province, which saw homes built on the Piikani First Nation, O'Chiese Nation, and most recently, the Ermineskin Cree Nation.
In 2018, a similar project on the Piikani Nation worked for eight weeks to build a 750 square foot home for an Elder on that nation.
"We're giving these kids an experience as a team, empowerment, pride and a sense of community," said Jay Noel, the program manager and business development community partner with Your Choice Homes.