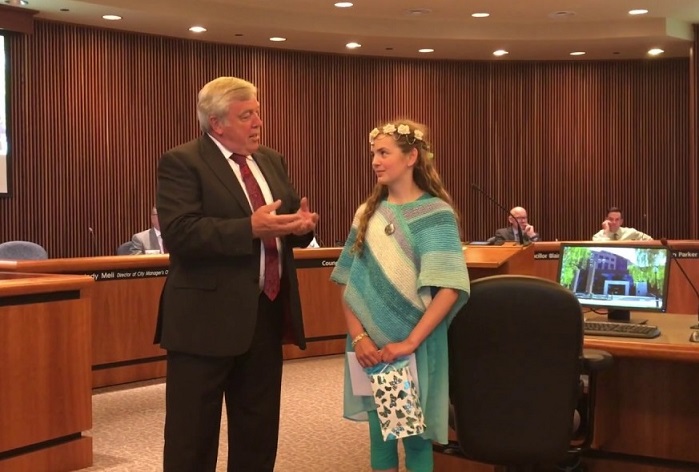 Lethbridge Mayor Chris Spearman gives a gift of ammonite to Nycea Hazelwood
"My project is on Truth and Reconciliation. I look at what reconciliation is, why we need to reconcile and how it is happening in our country. When I met with Elder Crowshoe I learned how First Nation people lost their sense of belonging and culture in our community'
Lethbridge Mayor Chris Spearman officially recognized the efforts of Ecole Agnes Davidson Grade 5 student Nycea Hazelwood to help foster greater awareness of Truth and Reconciliation goals in the city with a special gift presentation during Monday's council meeting.
Hazelwood is taking part in Canada's History magazine's "Young Citizens" competition where students create and submit videos speaking about important aspects of Canadian history. Spearman said by recognizing Hazelwood publicly and presenting her with a gift of ammonite, he hoped to show all young leaders in the community, that their efforts are appreciated and valued.
Hazelwood said receiving such recognition made her feel good, but she also wanted to keep the focus on her video's Truth and Reconciliation message.
Head over to kids.canadashistory.ca and check out her video. The four videos which receive the most votes will be given a special trip to Ottawa to present their message there.