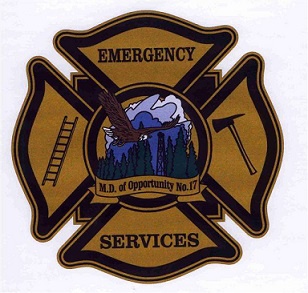 Hot and dry conditions continue in the area. Over the next 2-3 days, winds are expected to come from the south/southeast, meaning the wind direction will be moving towards the north/northwest, away from the Wabasca area.
When traveling on roads and highways in the Wabasca area – you will see areas of smoldering ground fires. These smoldering ground fires do not pose a threat. We are continually monitoring the perimeter in that area and have firefighters, heavy equipment and air support ready to respond at any time.
For your safety and the safety of our firefighters please stay away from the burned areas and follow the reduced speed limit on Highway 754. This is still an active wildfire area. Roots from burned trees are compromised and can fall without any wind.
A 4-hour evacuation alert is in place for Reserve B and D. For more information and updates, visit www.emergencyalert.alberta.ca or the MD of Opportunity Facebook Page.
Conditions will be smoky – if you have health concerns please call Alberta Heath Link at 811
For Road Conditions in Alberta call 511 or visit www.alberta.511.ca
Frequent updates on the McMillan Complex are available on the Alberta Wildfire website: www.wildfire.alberta.ca.
A Fire ban and OHV restriction is still in effect for the Wabasca Area – for more information visit www.albertafirebans.ca.