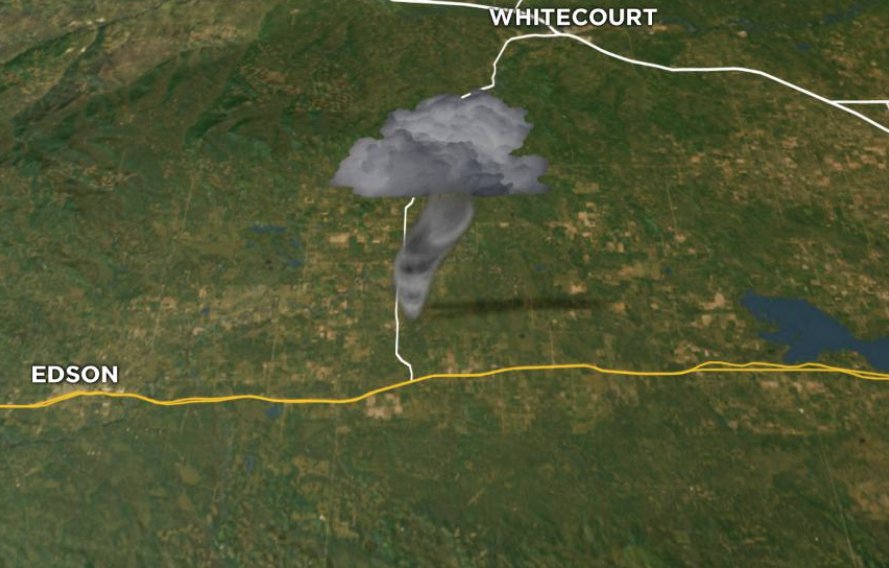 "Probable" tornado reported 7km north of Peers, Alberta
"First verified (confirmed or probable) #tornado of the year in Canada! Preliminary rating is EF0 - just some minor damage"
Environment Canada says there might have been a springtime tornado in Alberta on Wednesday.
The weather agency says they received a report of a "probable twister" just north of the community of Peers, 180 km west of Edmonton.
Witnesses reported the small tornado had knocked down about 30 metres of fencing and tossed two sheds.
This was considered a landspout tornado, generated by weak rotation under rapidly growing clouds or weak thunderstorms.
Environment Canada is now looking for any photos of the tornado and the damage it caused
Dr. Sills from Environment Canada writes:

"First verified (confirmed or probable) #tornado of the year in Canada! Preliminary rating is EF0 - just some minor damage (sheds tossed a short distance, fencing down, a... https://t.co/jyciP3eTNv

— Instant Weather AB (@IWeatherAB) April 26, 2019