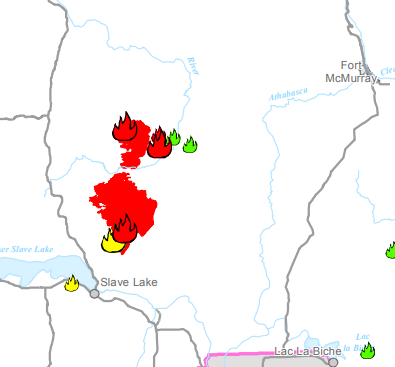 Friday May 31 @ 7pm
Slave Lake is still under an eight-hour evacuation notice but Mayor Tyler Warman said there was some good news Friday as fire behaviour was low to moderate due to weather cooperation and preventative measures being taken in town, and on the fire line.
Warman said the town isn't out of the woods yet due to the extreme and dry conditions. A fire that grew quickly to about two hectares broke out west of town at 3 a.m. Friday. Fire crews were able to respond immediately and the fire is under control, he said.
The town's evacuation alert will remain in place because of the fluctuating fire conditions.
The two fires totalling about 211,869 hectares, known as the McMillan Complex fires, moved north rapidly overnight Thursday bringing some relief to Slave Lake, but an evacuation order was issued for the Peerless Trout First Nation on Trout Lake about 250 kilometres north.
The northernmost part of the wildfires moved within about 14 kilometres of Peerless Trout First Nation early Friday prompting the immediate evacuation of about 1,000 residents north to Red Earth Creek.
Nearly 300 firefighters from across the country including New Brunswick, Nova Scotia and Prince Edward Island are working on setting up fire guards at the south and west edges of the fires as well as looking into burning fuels between the two fires to decrease fire behaviour before they join.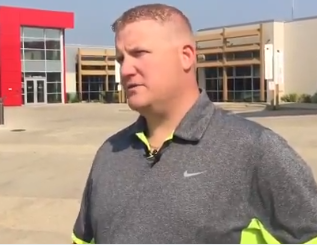 Slave Lake Mayor Tyler Warman provided media with an update to the 8-hour evacuation alert in place.
Slave Lake is home to about 7,000 people with another 700 to 900 wildfire evacuees from other communities also in the area.
Current status map of Alberta Wildfires
Heavy smoke yesterday over the wildfires in the Slave Lake Forest Area reduced the fire behavior intensity. As of 1:00 p.m., the overall fire behavior on these wildfires was low to moderate, and they were not spreading significantly.

Latest info: https://t.co/9aBj4F74nd pic.twitter.com/7PxqqZAxMP

— Alberta Wildfire (@AlbertaWildfire) May 31, 2019