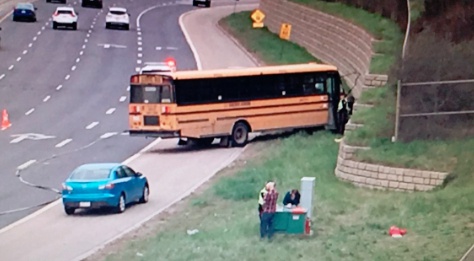 AHS says 11 children & 1 adult taken to hospital after a school bus hit a retaining wall on Whitemud Dr.
A school bus crash on Edmonton's Whitemud Drive has sent 11 children to hospital.
Police say the crash happened around 8:30 Thursday morning on Whitemud Drive westbound near 149 Street.
Witness's said the school bus struck a concrete retaining wall on the east side of the freeway.
According to EMS, 12 people were transported to hospital including 11 children for precautionary reasons, two of those patients suffered broken bones.
The driver of the bus was also transported to hospital with minor injuries.
The remaining 12 children on the bus were reportedly not injured and have been transported to their respective schools.
Update: 12 patients, including 11 children, were transported by EMS to an Edmonton hospital this morning, following a bus crash near the Quesnell Bridge. No major injuries, two patients suffered broken bones, all patients were in stable condition.

— ahs_media (@AHS_media) May 23, 2019