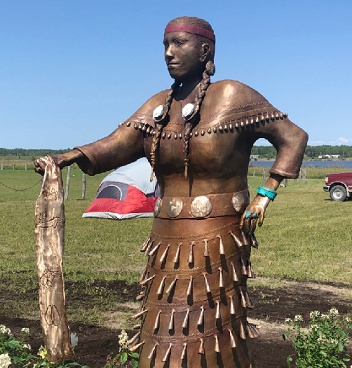 Kakigay-Pimitchy-Yoong Pimatizwin, which means 'life flows forever
The artist behind the metallic monument, Wayne Stranger, spent 1½ years working on the project
Manitoba's Sagkeeng First Nation unveiled a Bronze Monument last week, honoring the families and lives of missing and murdered Indigenous women and girls.
Her name is Ka Kih Gay-Pimitchy-Yoong Pimatiziwin, which means "life flows forever" in English.
The statue represents the missing and murdered women and girls who may have endured abuse, violence and trauma during their lifetimes, while also remembering the Missing and murdered men and boys, through a scarf wrapped in the girl's hands as she dances.
Lillian Cook, who coordinated the project, hopes the monument brings peace and healing to the community of 3,000 people, Northeast of Winnipeg