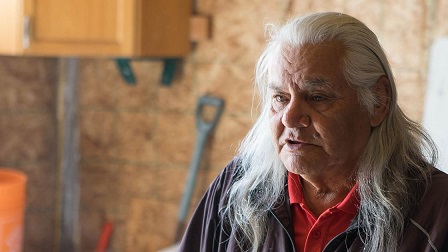 The documentary explores the preservation and promotion of the Nakota language.
To Wake Up the Nakota Language is the latest project of Regina filmmaker Louise BigEagle.
The documentary, called Nakon i'e Oguga (To Wake Up the Nakota Language), centres around Armand McArthur's fight to keep the Nakota language alive.
McArthur is the last fluent Nakota speaker in Pheasant Rump First Nation, and the documentary follows his work to teach Nakota to the community and preserve it for future generations.
The death of BigEagle's grandparents was one of the catalysts that made her decide to pursue the project.
McArthur, a 69-year-old fluent Nakota speaker, is committed to revitalizing the language and passing it on to future generations.
BigEagle's past work includes the film Sounds of the Sundance, dedicated to residential school survivors, and the documentary I Am a Boy.
To Wake Up the Nakota Language | DocLab Saskatchewan

▶️ Watch it here! ▶️ Discover how language holds the keys to culture and identity with this short by Louise BigEagle. #DocLabSask #Documentary #NFBIndigenous #IndigenousCinema #Saskatchewan #Nakota

Posted by NFB on Wednesday, July 25, 2018