The move is meant as a sign of respect for Indigenous culture and beliefs and is considered to be an important step towards reconciliation.
As of November 8th, Indigenous people are now able to swear their oath on an eagle feather in courtrooms across the province.
An estimated 250 people took in the ceremony at Edmonton's City Hall Main room, while another ceremony was held at Court of Queens Bench in Calgary.
Previously, witnesses had to swear on a bible or affirm their testimony.
According to Indigenous culture, the eagle flies closest to the creator, giving it the vision, power, strength and sacredness to see everything.
Dignitaries from Alberta's three Courts were joined by representatives from several First Nations, including Chiefs and Grand Chiefs to officially introduce the new option.
"To us as Indigenous people that really binds our sacredness, our truth to the Creator and our trust and our respect, so we're bound to tell the truth, It has that very calming feeling to the people, that feeling of being respected and in a trustworthy place and they feel at home. They're not just a number in court."
- Provincial court judge, Ivan Ladouceur
Photos: Lowa Beebe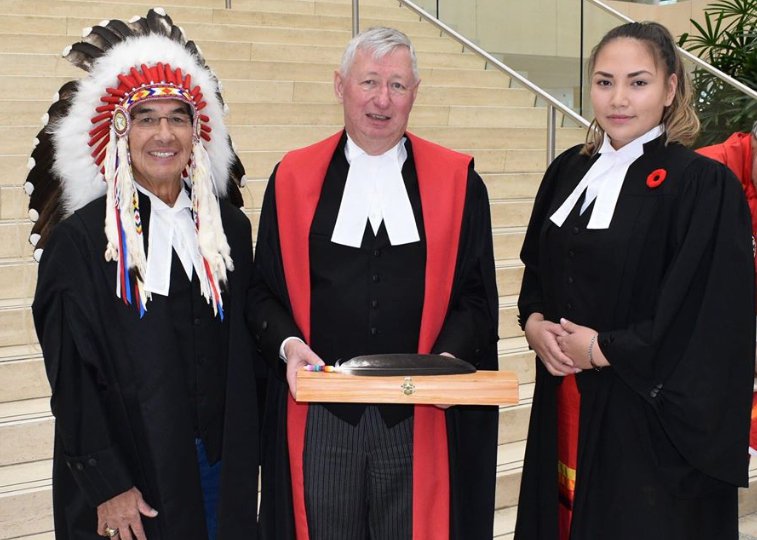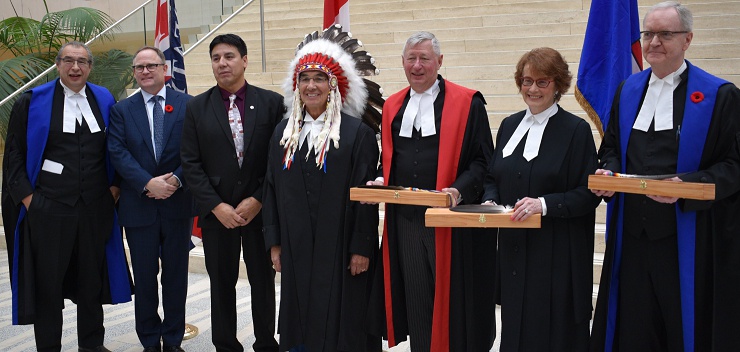 A Tri-Court Eagle Feather Ceremony was also held Friday at the Calgary Courts Centre, in both the Indigenous Courtroom and the Ceremonial Courtroom, to mark the introduction of eagle feathers in all Alberta courthouses. #ABQB #albertacourts pic.twitter.com/FqKxmVAVkN

— Court of Queen's Bench of Alberta (@QB_Alberta) November 8, 2019