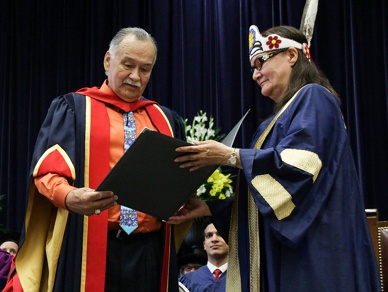 Reggie Leach receives an honorary degree from Brock University Chancellor Shirley Cheechoo.
Reggie Leach received a Doctor of Laws degree Monday at the spring convocation of Brock University in St. Catharines, Ontario
Reggie Leach played 13 years in the National Hockey League, won a Stanley Cup, but if you ask him what his greatest accomplishment in life is, he'll tell you it's the work he's done encouraging Indigenous youth to make smarter choices than he did.
As a member of the dominant Philadelphia Flyers squad in the late 1970s, Leach was a potent goal scorer and earned the nickname Riverton Rifle for having one of the hardest shots in the history of the National Hockey League.
He helped the Flyers win their second-straight Stanley Cup title in 1975, and earned the playoff MVP honour a year later when he set Philadelphia's all-time single-season scoring record of 61 goals, a mark that still stands today. Since his retirement, he has chosen to work with Indigenous youth, encouraging them to make wise life decisions and take responsibility for their actions.
Leach is Ojibwe and a member of Berens River First Nation in Manitoba. He encourages the kids he works with to take charge of their own lives — a message he brought to his convocation address.
"I want every young person to be successful," Leach said. "Your life is just starting. It's up to you to decide what you want your life to be. Whatever choices you make, you own those choices, good or bad. Life today is all choices. For young graduates going into this big, big world, remember why you went to university. Keep that focus going in the right direction."
Brock Chancellor Shirley Cheechoo, a Cree filmmaker and master storyteller, awarded Leach the Doctor of Laws degree.
"He has worked so hard," she said. "When a person starts at a very young age like he did, it's overwhelming to know that a child can progress like that. It will help me in my work to know that these kids I work with have so much potential. He represents that."
Saying he feels like the 'luckiest guy in the world,' Leach said it was a huge honour to receive the doctorate.
"It makes my heart happy because I'm being recognized for the work that I love to do," he said. "This means even more to me now because I've seen these young people graduating and I see the atmosphere."
Leach was inducted into the Hockey Hall of Fame in July 2018. Listen to our interview with him here: https://windspeaker.com/news/sports/listen-its-great-says-reggie-leach-on-being-inducted-into-hall-of-fame
His book The Riverton Rifle: My story – Straight Shooting on Hockey and on Life recounts a life of choices that sometimes led him down painful paths.