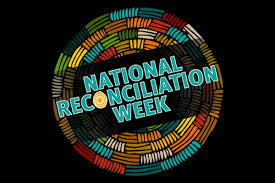 Reconciliation Week is Sept 15 - 20
Reconciliation Week events are planned throughout Lethbridge to explore the complexities of the relationship with Blackfoot and Indigenous peoples.
To support this theme, the Reconciliation Lethbridge Advisory Committee will be bringing forth a proposed motion to city council at next Monday's public meeting to declare "Oki," the Blackfoot word for "Welcome," as the official greeting of the City of Lethbridge.
Blackfoot is one of more than 70 Indigenous languages in Canada and the most spoken in here Lethbridge.
The Reconciliation Committee is also working with the Heart of our City Committee to create a large "Oki" greeting sign for downtown Lethbridge which will be officially unveiled in the coming weeks.
Other events include a Reconciliation flag-raising event at 10:30 a.m. in front of city hall followed by a Walk for Reconciliation to the Galt Museum.
A Luncheon will also be served at 11:45 a.m. at the museum with a keynote speech presented by well-known local film star Eugene Brave Rock.
For more information on Reconciliation Week events in Lethbridge visit http://www.lethbridge.ca/reconciliation.