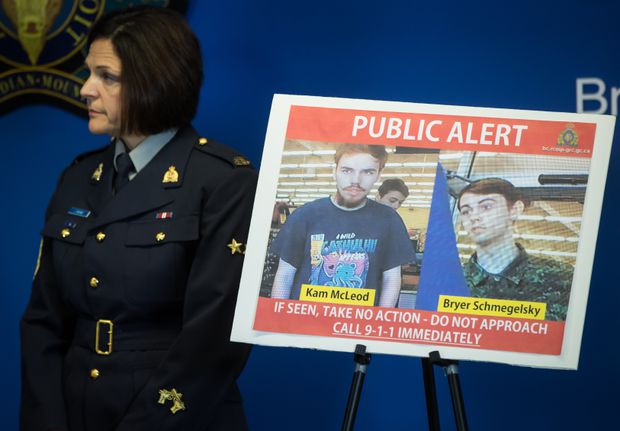 RCMP Sergeant Janelle Shoihet stands next to security-camera photos of Kam McLeod, 19, and Bryer Schmegelsky, 18, two co-workers wanted in connection to a series of killings in B.C
Kam McLeod and Bryer Schmegelsky have now been charged with 1 count of second-degree murder in the death of the man found south of Dease Lake.
As the search for B.C. homicide suspects Kam McLeod and Bryer Schmegelsky continues, Mounties have identified the third person found dead in the province's north last week as a man from Vancouver.
In a statement, the RCMP said Leonard Dyck was found dead on Friday at a highway pullout about two kilometres south of the vehicle fire south of Stikine River Bridge on Highway 37, near the community of Dease Lake.
Dyck's family has been notified of his death and issued a statement through the RCMP.
"We are truly heart broken by the sudden and tragic loss of Len. He was a loving husband and father," the family said. "His death has created unthinkable grief and we are struggling to understand what has happened. While we understand there will be interest in knowing more about him and the impact he had during his life, we are asking for the public and the media to please respect our privacy during this difficult time."
McLeod, 19, and Schmegelsky, who is 18, have been charged with second-degree murder in Dyck's death.
The two fugitives are also wanted in connection with the double homicide of Australian Lucas Fowler and his American girlfriend, Chynna Deese, whose bodies were found on Monday, July 15 on the Alaska Highway about 450 kilometres away.
In an interview with The Canadian Press, Alan Schmegelsky, the father of suspect Bryer Schmegelsky, is convinced that his son is on a "suicide mission" and intends on going out in a "blaze of glory" when police officers finally catch up with him.
"He's going to be dead today or tomorrow, rest in peace, Bryer. I love you. I'm so sorry all this had to happen. I'm so sorry that I couldn't rescue you."
Both men are described as 6'4" tall and approximately 169 pounds. McLeod has dark brown hair, facial hair, and brown eyes, while Schmegelsky has sandy brown hair.