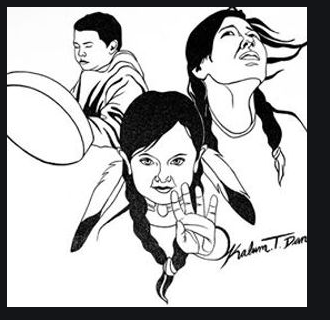 CIF Reconciliation Society presents "Pokaiks" the Children Walk & Festival, Sunday Sept 29 in Calgary
The walk will start at 10 am at Rouleauville Square and the event afterwards will be held at Central Memorial Park, 1221 2 Street SW.
It is intended that this event will be held on an annual basis on Truth and Reconciliation Day (Orange Shirt Day – September 30th), soon to be declared a statutory holiday.
We will walk to honour the survivors of the residential school system who fought to bring that terrible history to our attention. We will walk to remember the thousands of children that died in residential schools.
This event aims to help Indigenous and non-Indigenous peoples to learn about current issues and to start collaborating on solutions by building awareness, dispelling stereotypes, building relationships and generating appreciation and support for our Indigenous peoples. We are better together, and it's through events like ours, that we can build bridges and unite our Indigenous and non-Indigenous communities of Calgary.
This important event will be free for everyone to attend and aims to attract Indigenous and non-Indigenous peoples and organizations who are interested in walking together on the path towards reconciliation.
Companies and organizations will be invited to bring their staff. Schools will also be asked to bring their staff, students and families.
Prior to the Walk, we will have an opening prayer in Rouleauville Plaza. The walk will take place westbound along 17 Avenue and then turn northward along 11 Street to Connaught Park and then eastbound along 12 Avenue to Central Memorial Park. An opening ceremony will take place on stage in Central Memorial Park followed by Elders storytelling, participative drumming, art and music workshops, virtual reality games,
beatboxing and other cultural performances.
Indigenous artisans will offer live art demonstrations and offer their artwork and crafts for sale. People will be able to
participate in the educational Kairos blanket exercise and in creating an art piece about reconciliation. Indigenous not-for-profit organizations and charities will be invited to have booths to share their work with the people at the event.
We will be serving Indigenous stew and bannock to the public during the event.
This event is funded by the Victoria Park BIA, the Inn from the Cold with their Calgary Foundation - Neighbours Grant and many other donations.
Schedule of Events
Opening Ceremony 11:30am
● Blessing – Sheldon First Rider
● Welcome song - Chantal Chagnon

Speakers:
● Sheldon First Rider – Blackfoot Elder
● Clarence Wolfleg – Blackfoot Elder
● Vera Marie Crowchild – Tsuut'ina Elder
● John Sinclair – Cree Elder
● Joyce Marie Healy – Blackfoot Elder
Live performances:
● Sandra Sutter w/ Jim Peace – Folk singer
● Stardale Women's Group – Theatre piece "Committing" by young Indigenous girls & Eugene Marchland
● Chantal Stormsong Chagnon – Drumming www.cree8.ca
● Telly James – Comedian
● Jamie Medicine Crane –
● Status Savage -
● Curtis Lefthand Running Rabbit
● Dwight Farahat
● Bebe Buckskin
● Truth/Around the Fire
● Traditional Dancers & Drumming
● Curt Young & The Healers
Hands-on workshops
● Chantal Stormsong Chagnon – drumming, beatboxing & rapping
● Participative Art Piece on Reconciliation
● Heather Morigeau – painting stones for MMIWG
● Marilyn Shingoose – Blanket exercise
Artists and Artisans at the festival include:
● Delree Dumont – Cree artist
● Sam Bighetty – Cree artist
● Kalum Teke Dan – Blackfoot artist
● Native Diva Creations
● Sukapii Creations
● Buffalo Spirit Beads & Gifts
● Rezinbabe
● Indig Busy-ness
● Kookum's House
● Loretta's Wellness Circle
● 49 Native Design
● Colouring It Forward
● Indicity Angel
● Bright Swan Creations
● Kiwewin Beads
Closing Ceremony:
● Gratitude and next steps forward – Diana Frost
● Closing song - Chantal Chagnon