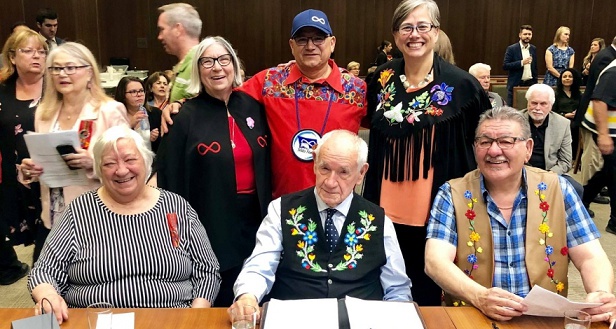 Métis Nation of Alberta signed a historic agreement in Ottawa on Thursday, Photo: Métis Nation of Alberta)
The agreements give the Métis jurisdiction in core governance areas citizenship, leadership selection government operations and a chance to develop their own laws and draft constitutions to govern their communities
The federal government has signed self-government agreements with three provincial branches of the Métis Nation in Alberta, Ontario and Saskatchewan, the first time Ottawa has forged such arrangements with Métis groups.
For decades, Métis organizations have fought to achieve the same recognition of rights as First Nations. These self-government agreements follow several recent Supreme Court of Canada decisions that have formally recognized Métis Aboriginal rights and the federal government's responsibility for issues affecting the Métis.
The agreements, signed at a ceremony in Ottawa Thursday by Crown-Indigenous Relations Minister Carolyn Bennett and the Métis Nation of Alberta, the Métis Nation of Saskatchewan and the Métis Nation of Ontario, does not set out specific terms for governance of areas like education or health care, nor do they resolve existing land claims. Instead, they are intended as an upfront recognition of the Métis right to self-government, with further agreements on specific areas of jurisdiction to follow.
The Métis governments will now have to develop their own constitutions, to be funded by the federal government, and will need to negotiate new fiscal arrangements with Ottawa. They may also negotiate agreements for jurisdiction of areas including child care, language and administration of justice.
The agreements further set out an expectation that the federal minister will recommend legislation to Parliament to affirm the legal status of the Métis governments, though this almost certainly will not happen before the fall federal election.
MNA President Audrey Poitras said the Metis in her province have been fighting for this day for 91 years, but how this agreement will benefit Metis individuals, is not fully known yet.
The Métis also say self-government will help them to protect their distinct culture and language — Michif.