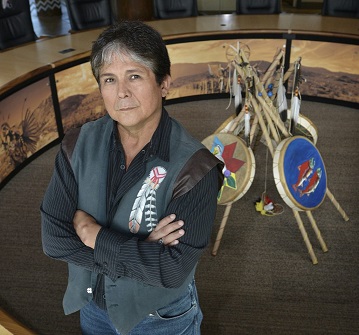 Chief Clarence Louie
"This isn't just my award. My name goes on it, but if it wasn't for what the Osoyoos Band has done and continues to do, I wouldn't even be thought about,"
Alongside 15 Osoyoos Indian Band members, Louie accepted the award at the 41st annual gala and induction ceremony in Toronto on June 19.
Chief Louie says the award is recognition for what the band has accomplished over the last two decades.
Louie said historically speaking, Canada's First Nations were the first business people of the land, something borne by archeological research where ancestral digs around Osoyoos have proven tribes traded near and far centuries ago.
He sees his role as chief to be that of an elected council member working with other people to convince band members to support each business initiative.
Chief Louie hopes to continue growing business for the Osoyoos Indian Band, creating more jobs and bringing more money to the region.
In a media release, chancellor for the order of business hall of fame David Denison called the 2019 class of companion inductees "a very special group," noting their "enduring contributions to the business community and our country."