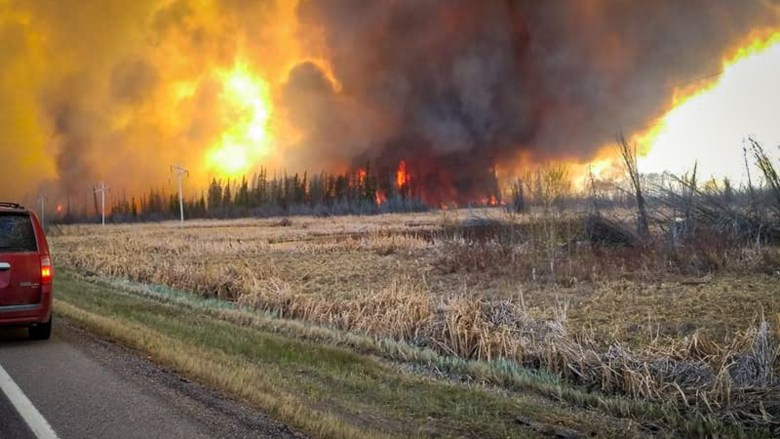 The Chuckegg Creek Fire (SW of High Level
The Chuckegg Creek Fire remains approximately 3 km southwest of the Town of High Level and is classified as Out of Control (OC).
Due to northeast winds and resources the fire has not reached the Town of High Level. The main area of spread remains away from town.
This afternoon, firefighters will be continuing a controlled burn operation to create containment along highway 35 south of High Level, and west along highway 58, if conditions allow.

Alberta Wildfire firefighters in conjunction with municipal firefighting resources, along with air support from helicopters and air tankers continue to focus containment efforts south of High Level. With current conditions firefighters continue to be effective, due to lighter winds out of the northeast. This in result continues to aid crews on protecting power line poles west and south of the Town of High Level.
The last recorded size is approximately 92, 000 hectares.
Heavy equipment has been working along the northeast side of the fire and continue to make progress on consolidating a guard around the fire perimeter. They have built approximately 8 km's of containment line.
The High Level Fire Department and other municipal firefighters have completed structure protection on the southwest side of town and is being established on the northwest side of the town. In addition, structural protection has been established on Mackenzie County homes southeast of High Level, Tolko and Norbord.
Structural firefighters have also been taking preventive measures on homes. This includes removing debris from yards, removing patio furniture from decks and other flammable material.
There are 154 structural firefighters that continue to establish and maintain structural protection on homes in the Town of High Level and on other critical values at risk within Mackenzie County. Alberta Wildfire has 143, firefighters along with 28 helicopters on this fire. There are more resources arriving daily.
Atco has temporary restored power to Mackenzie County, Town of High Level, La Crete, Fort Vermilion & Dene Tha' First Nation. The goal is to restore permanent reliable service as quickly & safely as possible. Power may be intermittent at this time.
A big thanks goes out to the crews and support staff arriving from other provinces, including this group from Nova Scotia! https://t.co/D46QjrbDPD

— Alberta Wildfire (@AlbertaWildfire) May 23, 2019