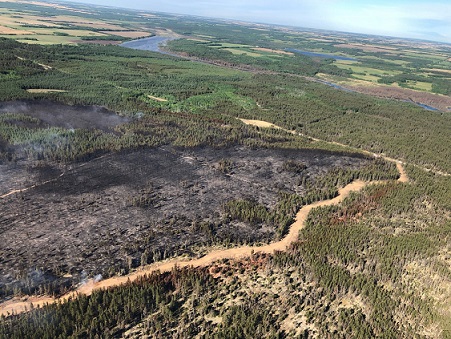 Moose Lake fire near Bonnyville, under Control at a size of 110 hectares
Latest info from Alberta Wildfire, 6pm
A number of out of control wildfires continue to burn in northern Alberta. Mandatory evacuation orders are in effect for:
Some areas of Mackenzie County

areas west of Blues Creek, west of Range Road 180 (Blue Hills Road) and north of Township Road 1030 and La Crete Ferry Campground to Peace River

Paddle Prairie Metis Settlement

Trout Lake area of Peerless Trout First Nation

Wabasca-Desmarais, Bigstone Cree Nation, Sandy Lake and Chipewyan Lake Village

Steen River
Approximately 5,769 residents of the following communities have been approved to return home:
High Level (as of June 3 at 7:13 pm it was estimated that 50% of High Level residents returned home)

Some areas of MacKenzie County

Dene Tha' First Nation communities of Bushe River, Meander River and Chateh

County of Northern Lights, South of Twin Lakes Campground, including Notikewn, north of Twin Lakes Campground, including Keg River, Carajou, to the county's northern border
Paddle Prairie Metis Settlement Members are not allowed back home yet.
Town officials say there have been flare ups within the community and firefighters remain very active in the area putting out hotspots.
Structural firefighters are continuing to work in Paddle Prairie and AB Wildfire continues significant operations in the area.
No more homes have been affected and ATCO is working in the area restoring power lines, which should be completed over the weekend.
RCMP continue to patrol in the Paddle Prairie area
Wabasca - Bigstone Cree Nation
Fire has grown to 246,000 hectares.
Fire behaviour: Smoldering and creeping fire east of Wabasca, The hamlet of Wabasca is smokey.
The heavy equipment dozers on the fire are concentrating on fire guard near the community.
Rain is forecasted for Thursday and Friday, it is expected to speed up the re-entry process and have families home as soon as possible.
100 of the best firefighters in the United States arrived in Edmonton Wednesday morning. They're part of five elite hotshot crews from Montana ready to help battle the wildfires raging across parts of northern Alberta.
Alberta Wildfire says that there are 26 wildfires burning in the province, 7 out of control.