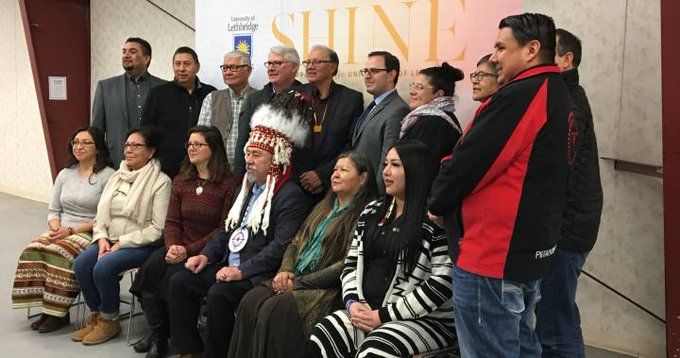 "I think it was a real pleasant surprise that we are going to be working with the Blackfoot Confederacy, especially with the youths and we all know that the Aboriginal youths are the fast-growing population in our communities - U of L Chancellor, Charles Weaselhead
A unique and innovative partnership between the Blackfoot Confederacy, the University of Lethbridge and the Mastercard Foundation will support and enable Indigenous youth to achieve their goals and become leaders in their communities.
The Mastercard Foundation is investing $15 million over the next five years to improve transitions to post-secondary and increase student success, increase work integrated learning opportunities (co-op placements for example) and entrepreneurship supports, and create partnerships and programs that lead to employment opportunities for Blackfoot youth, as well as supporting Blackfoot Nations in realizing their economic development aspirations.
The formal funding announcement was made at Brocket on Wednesday with representatives of all four Blackfoot tribes present, alongside Advanced Education Minister Demetrios Nicolaides, U of L officials and representatives of the Mastercard Foundation.
The University of Lethbridge will work hand-in-hand with the Blackfoot Confederacy on the matter, while further developing a campus Indigenous people can feel comfortable studying at.
U of L alumnus and Piikani youth advocate Sarah Russell, who was a guest speaker for the event, hoped the funding may lead to meaningful change for local Blackfoot youth. Russell dropped out in Grade 6 and then shortly after became a teenage mom. It was having her daughter, who's now 16 years old, which led her back to school and then eventually on to graduating from the U of L's Native American Studies program.
The funding provides an additional 30 Blackfoot and Indigenous students the opportunity to attend the university.
The program begins in the fall of 2020.