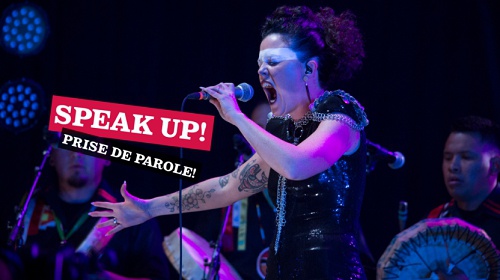 Speak Up! precedes Indigenous Music Week at Studio Bell, from June 19 to 22, featuring a week-long celebration of music and activities
The National Music Centre has launched a new permanent exhibition at Studio Bell in Calgary, showcasing Indigenous artists making social and political impacts in Canada.
Some of the featured artists include Singer-songwriter and First Nations activist Willie Dunn, operatic vocalist and composer Jeremy Dutcher, trip-hop singer-songwriter iskwē, eight-time Grammy-nominees Northern Cree, Anishinaabe singer-songwriter and emcee Leonard Sumner, Ottawa-based rock band Seventh Fire, Inuit throat singer and experimental artist Tanya Tagaq, and groundbreaking Cree hip-hop group War Party.
"This exhibition is one of many ways that the National Music Centre is honouring Indigenous artists and shining a light on their legacies as artists and activists," said Andrew Mosker, President and CEO, NMC.
Speak Up! is accessible with paid admission to Studio Bell and open to the public on June 14.
More info on all Indigenous Music Week activities can be found here.