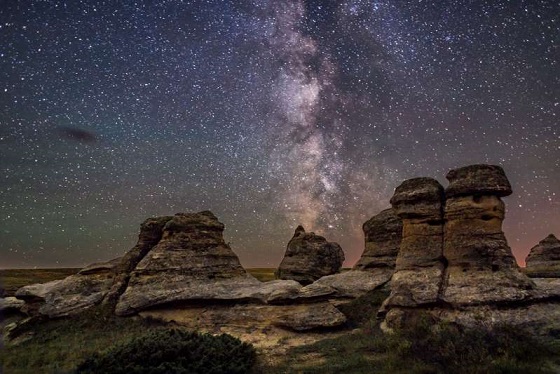 Writing-on-Stone Provincial Park in southern Alberta - Photo: Alan Dyer
The Writing-on-Stone National Park near Milk River becomes Alberta's sixth World Heritage Site, and the twentieth in Canada.
The park, also known by its Blackfoot name Áísínai'pi, received the designation from the United Nations Educational, Scientific, Cultural Organization (UNESCO).
The site contains thousands of rock carvings and paintings, including some that chronicle historical events such as Indigenous People's first contact with Europeans.
Each year, more than 60,000 people travel to visit the southern Alberta park, which contains the most significant concentration of protected First Nations petroglyphs (rock carvings) and pictographs (rock paintings) on the Great Plains of North America.
Some of the carvings and paintings date back 2,000 years.
Indigenous leaders and the federal and provincial environment ministers are among those praising the decision.
The park, located near the U.S. border in southeast Alberta, joins Head-Smashed-in-Buffalo Jump, Dinosaur Provincial Park, Waterton-Glacier International Peace Park, the Rocky Mountain parks and Wood Buffalo National Park on the prestigious UNESCO list.