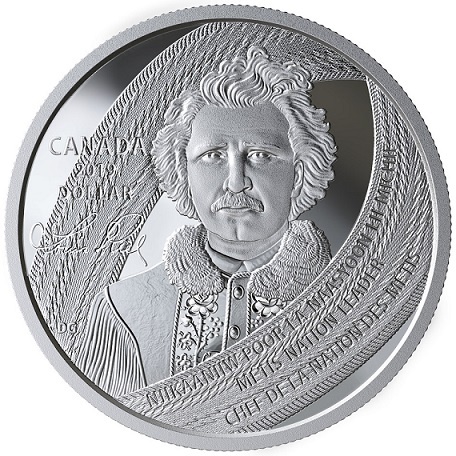 "I am honoured to have participated in this coin design. It remembers and honours not just our leader, but also the resilience of the Métis people." - David Garneau
The Royal Canadian Mint has unveiled a fine silver Special Edition Proof Dollar marking the 175th anniversary of the birth of Louis Riel.
This is the first coin produced by the Mint to be engraved with Michif, the official language of the Métis Nation.
Born 175 years ago in Saint-Boniface, in the former territory of Rupert's Land, Riel was central to the effort to protect Métis rights when the land that would become the province of Manitoba was transferred to the Dominion of Canada. He is known as the founder of Manitoba, after negotiating the terms under which the newly created province entered Confederation in 1870.
Designed by Métis artist David Garneau, the reverse of the 2019 Special Edition Proof Dollar features a portrait of Riel wearing a fur-trimmed buckskin jacket adorned with traditional floral beadwork. The Coventry sash encircling his portrait forms one looped half of the emblem of the Métis Nation: an infinity sign that represents the unification of two cultures and the immortality of the Métis Nation.
The tri-lingual inscription of Riel's title found on the lower band of the sash reads: NIIKAANIIW POOR LA NAASYOON LII MICHIF - MÉTIS NATION LEADER - CHEF DE LA NATION DES MÉTIS. The coin also features an engraving of Louis Riel's signature.
The coin costs $59.95 and will be available in November.
President and CEO of the Royal Canadian Mint Marie Lemay said the coins tell stories of people who have shaped the course of Canadian history.
Find more information on the coin here