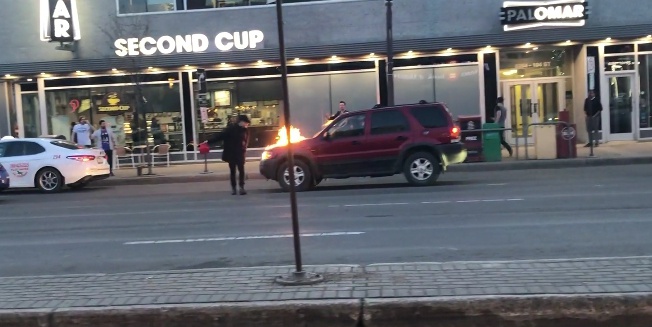 The man was apprehended by witness's and held until police arrived..
Edmonton Police have a man in custody after he lit more than 10 moving vehicles on fire in the Whyte Avenue area Friday night around 9.
A video, which was posted on Reddit, shows a man pouring gas onto a vehicle's hood and lighting it on fire.
According to EPS, the suspect threw the Jerry can and ran into a Starbucks as another man chased him.
He was taken down inside the coffee shop and held by multiple people until police showed up.
No one was injured.
Watch both Videos:
https://www.reddit.com/r/Edmonton/comments/bcmasm/whos_up_for_a_little_friday_night_arson_on_whyte/?utm_source=share&utm_medium=ios_app
Why the hell was someone lighting cars on fire on whyte? #yegdt #yeg pic.twitter.com/gjJmZJFgZo

— Bronte (@BronteValk) April 13, 2019