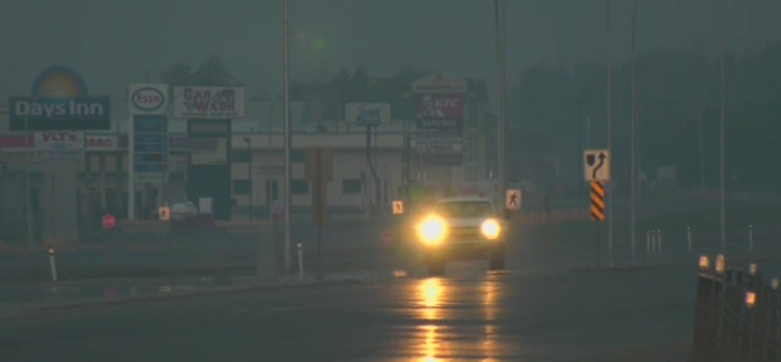 Town of High Level Tuesday afternoon, Photo: CTV News
Firefighters from Ontario, BC and Saskatchewan are scheduled to arrive today to help out.
Great progress has been made by heavy equipment and firefighters, due to lighter winds out of the northeast. This in result aided crews on protecting power line poles west and south of the Town of High Level.

The Chuckegg Creek Fire remains approximately 3 km south of the Town of High Level and is classified as Out of Control (OC). Due to current conditions and resources the fire has not reached the Town of High Level. The main area of spread remains on the northwest side of the fire, away from town. Firefighters along with air support from helicopters and air tankers have been focusing efforts on the east side of highway 35 and continue to be effective.
Fire activity and smoky conditions make it challenging for firefighters to get an accurate GPS of the fire perimeter. When this issue arises Alberta Wildfire uses aircraft to do a high-level aerial scan at night. Data from the scan will be collected in the morning and new size will be determined. The last recorded size is approximately 79, 805 hectares.
Heavy equipment will be working in a northwest direction and continue to make progress on consolidating a guard around the Town of High Level and parts of the fire perimeter.
Structural protection has been established in the Town of High Level and on other critical values at risk within Mackenzie County.
Limited power has been restored in High Level after wildfires in the region knocked out the electric transmission lines earlier in the week.
A spokesperson for ATCO says due to the unpredictable nature of the fire, power could be intermittent over the next few days, but they are working to secure backup generation to support emergency workers.
The province says the wildfire danger for the region is still extreme, and dry conditions and light winds in the forecast for Wednesday could cause a fire to easily ignite and spread very quickly.
Firefighters have been working to build firebreaks southwest of the community, as the fire is too big to attack directly.
An evacuation order for residents remains in effect, and officials are now urging residents to seek shelter in nearby High Prairie, as there are no more hotel rooms available in Slave Lake.
Staggering new video of the #HighLevel #ABFire from Danny Green. It shows just how large this fire has grown. Now 80,000 hectares in size. pic.twitter.com/Fyw0cyi6Hz

— Sarah Ryan (@SarahRyanYEG) May 22, 2019