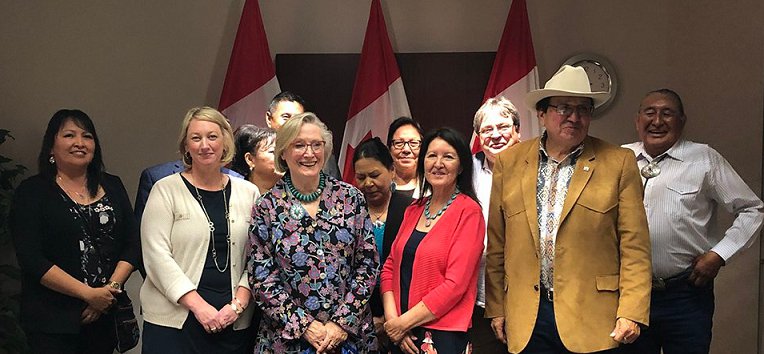 "This claim settlement with the Blood Tribe is an important step on our journey of healing and reconciliation" Photo: Minister Carolyn Bennett's office
"The federal government owes the Kainai Blood Tribe 162.5 sections of land. And so now, we're at that stage where we look to you to again make the others understand. Make the Prime Minister understand. Make your colleagues in cabinet understand, that perhaps it is time we come to some resolution of our Big Claim. After all, the court has made a decision, and we have been patient." - Blood Tribe Chief Roy Fox

In a meeting at the Harry Hays building in Calgary, Minister of Crown-Indigenous Affairs Carolyn Bennett and Blood Tribe Chief Roy Fox signed an agreement that addresses the mismanagement of assets and resources relating to cattle ranching between the years of 1894 and 1923.
In a recent ruling by a Federal Court judge, it was found Ottawa underestimated the number of Blood Tribe members in southwestern Alberta when their reserve was created in the 1870s.
The ruling could add up to 421 square kilometres to the band's reserve, already more than 1,400 square kilometres in size. The court said the band may also seek compensation in lieu of land.

Bennett said her government will continue to work toward settling outstanding claims and it's something that all Canadians should be aware of.
Chief Fox said $123 million from the cattle claim settlement will be used for housing, capital works, a new administration building and a new skating rink.
Bennett said the government is willing to start negotiations regarding the land claim but she's not sure how soon that will begin.
The pair presented gifts to each other after signing the agreement, agreeing to continue working on other claims before the next federal election, which is set for October.