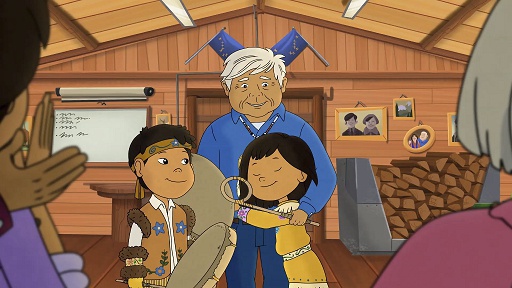 The show follows the adventures of a 10-year old Gwich'in/Koyukon/Dena'ina Athabascan Alaska Native, Molly Mabray, her dog Suki, and her two friends, Tooey and Trini, in the fictional village of Qyah, Alaska.
PBS KIDS announced Molly of Denali — a new animated series that will debut nationwide this summer on CBC, PBS stations and digital platforms. It's the first nationally distributed children's show to feature an Indigenous lead character from Alaska.
Molly of Denali is an action-adventure comedy about feisty and resourceful 10-year old Molly Mabray, an Indigenous girl from Alaska.
Molly helps her mom and dad run the Denali Trading Post, a general store, bunkhouse and transport hub in the fictional village of Qyah, Alaska.
The show follows Molly, her dog Suki and her friends Tooey and Trini on their daily adventures in Alaska, from fishing to building snow forts to delivering a camera to friends on a volcano via dog sled.
Each episode will be inclusive of historical archives, field guides, information texts including books and online resources, indigenous knowledge from elders, maps, posters, photos, and much more.
Though "Molly of Denali" is a kids show, producers say the cartoon will tackle some heavier issues, such as inter-generational trauma among Indigenous people.
The show, which is now in production, will air on PBS and CBC later this summer.
Listen to the shows podcast here