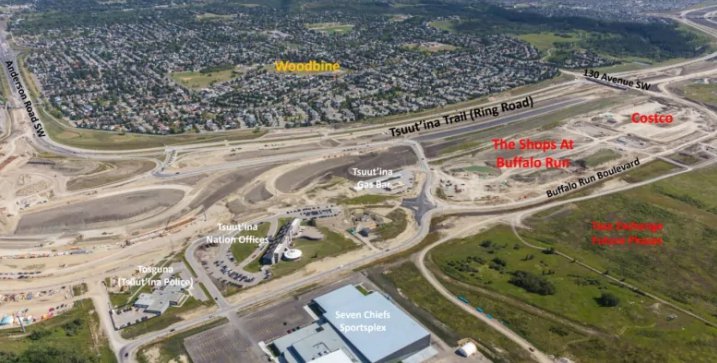 A map shows where the Costco will be located on the Tsuut'ina First Nation (Credit -Tsuut'ina - Canderel)
The 150,000-square-foot store is expected to open in summer 2020.
Plans for a Costco on Tsuut'ina Nation were unveiled on Wednesday.
The store will be the anchor tenant for a 500 hectare multi billion dollar development along the edge of the ring road called Taza that will include retail centres, entertainment and hospitality complexes, a research campus, and office developments with a health and wellness component.
Costco will be part of a development called Shops at Buffalo Run, with other stores and restaurants nearby scheduled to open in summer 2021.
Developers believe the store's location and easy access will translate to high volumes of customers.
"Costco is one of the largest retailers in the world and we are thrilled that their business judgment brought them to Taza and to Tsuut'ina, We have been investing in the future of our Nation for many years. We have been building up our own infrastructure and social programs, recently opening the Bullhead Education Centre, the new Tosguna Police Station, and are now under construction with a new high school."
- TsuuT'ina Chief Lee Crowchild