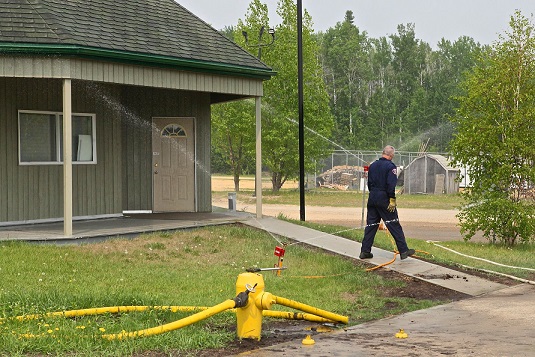 " The crisis is NOT over. The wildfire hazard remains VERY HIGH. New fires start almost every day. If the fire becomes threatening again, you may have to evacuate on just a few hours notice"
Approximately 3,500 people from Bigstone Cree Nation and the Hamlet of Wabasca-Desmarais will be allowed to return to their communities on Wednesday, after being evacuated on May 29th.
However, The fire departments are warning returning residents that the situation is still hazardous, and asking them to be cautious around the firefighting equipment in their communities.
" When you get home you are going to see some changes around critical sites in the community. Conifer trees (spruce and pine) have been removed if they were close to a building. You may see hoses still in place and sprinklers and hoses hanging from roof peaks. PLEASE DO NOT TOUCH THEM, DO NOT LET YOUR CHILDREN PLAY AROUND THEM OR TOUCH THEM. They will be checked every day by a fire department member. People living in Bill C will find major changes as large fire guards have been dozed around their homes. Work yet remains to be done. These are not safe places for children to play. A house-by-house sprinkler system is in place there. That is your primary defense against fire".
The Fire department said that The McMillan Fire Complex nearly surrounds the communities on three sides and smoke is quite heavy for hours on end at times.