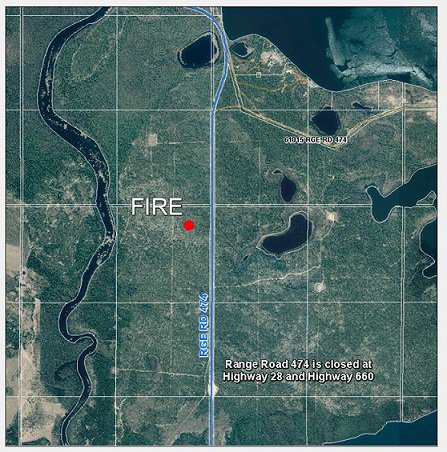 There are 80 to 100 firefighters on scene, as well as six fixed wing aircraft and three helicopters.
Over 100 firefighters are battling a wildfire near Bonnyville.
Alberta Wildfire said the fire, now classified as out of control, broke out at approximately 5 p.m. in the area of Range Road 474, between Highway 28 and Highway 660.
The fire started in a ditch, and spread rapidly due to tinder dry conditions in the Moose Lake forest area.
There are natural barriers protecting Bonnyville, including a lake, and there is no order to evacuate the town.
Range Road 474 is closed at Highways 28 and 660.
Bonnyville Regional Fire Chief Jay Melvin asks everyone to stay away from the area to allow crews to work. He also asks that people stay off of Moose Lake so the firefighting aircraft can pick up water.
Crews, including M.D. employees and private contractors, are working on the north and south side of the fire, pushing the 50-foot fire break towards Moose Lake.
Aircraft stopped aerial firefighting efforts at 10:15 p.m., as it got dark.
There is no evacuation order in place.

— MD of Bonnyville (@MDBville) June 4, 2019