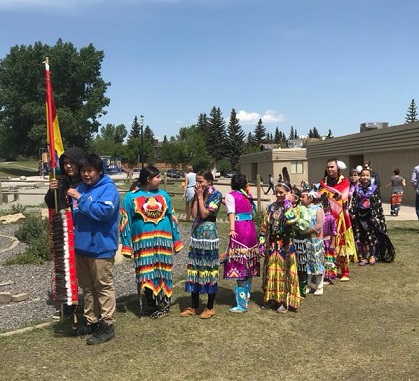 Credit: Mitford School
"Many of our students at Mitford are Indigenous, Metis and Inuit ... it's important to celebrate these students,"
Mitford School is kicking off celebrations on June 14 with their annual powwow.
It's a collaborative effort between the school's Indigenous students, staff and members of the Cochrane and Stoney Nakoda communities.
The day will kick off in the morning with students engaging in nine pre-planned sessions incorporating traditional learning, Indigenous games, dancing, crafts, languages and more.
Starting at 12:20 p.m., a traditional powwow led by Johnny Powderface and the Chiniki Lake Drum group will showcase traditional drumming and dancing. Students from both Glenbow Elementary School and the Cochrane Christian Academy will be attending the event.
Mitford and Glenbow schools have made an effort every year to recognize Indigenous Peoples Day.