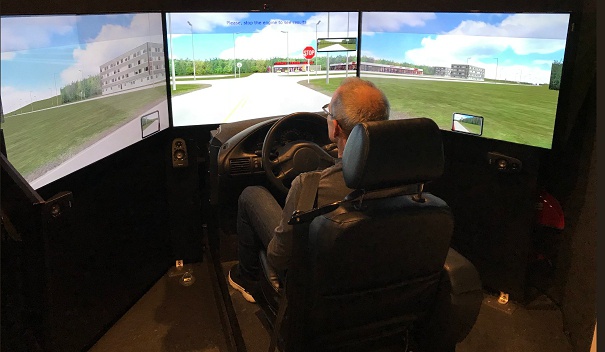 Test your skills in AMA's Roadbot driving simulator
The Roadbot is also used at schools, teaching new drivers and is able to simulate over 200 driving scenarios including what to do if you come across wildlife.
The Alberta Motor Association Roadbot is a driving simulator available to new and in-training drivers who want to test their skills, experienced drivers who want to make sure their skills have stayed sharp, and anyone who just wants to take it for a spin during events this summer.
Inside the Roadbot is everything you'd expect behind the driver's wheel. The dashboard features a fully-functional array of instruments and warning lights to replicate the feel of the driver's seat, complete with a motion and vibration feedback system.
The steering wheel simulates the pull and resistance of turning maneuvers and real road conditions including potholes, curbs, rumble strips, and more. It's capable of simulating over 200 driving scenarios in urban and rural environments, summer and winter conditions, all kinds of gentle and dangerous weather, and what to do if you come across wildlife on the roads, like a moose at night.
The Coalition for Safer Alberta Roads Executive Director Debbie Hammond hopes that if people take anything away from the simulator, it's just to be aware of their own driving habits.
"If this prompts people to just think a little bit about their own driving habits that hopefully then prompts them to go maybe I'm not skilled enough and I need to take some courses. Really what we're hoping is that awareness starts to occupy people's minds… If we achieve that, that's a success."
Look for the AMA Roadbot at community events in Alberta throughout the summer.