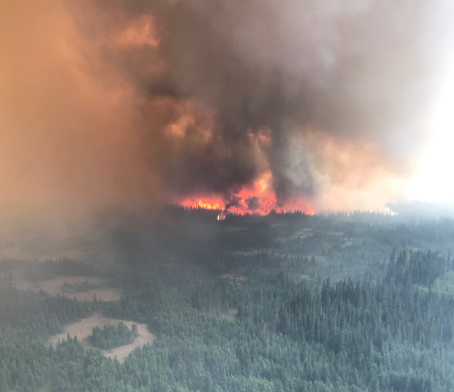 Chuckegg Creek Wildfire. Photo: Town of High Level
Last recorded size: 344,718 hectares Fire perimeter: 606.12 km

There are 626 firefighters and support staff, 36 helicopters and 61 pieces of heavy equipment fighting this wildfire.
Heavy smoke may occur along Highway 35 south and Highway 58 east of High Level. Please use caution as you're traveling through these areas and consider slowing down as you pass through.

If you have any health concerns related to smoke activity, please contact Alberta Health Services for assistance or call 811.

A mandatory evacuation has been issued for a small number of residents. For more information, visit the Mackenzie County Facebook page.

Extreme fire behaviour continued throughout the day as firefighters, heavy equipment, airtankers and helicopters continue to be challenged by aggressive fire activity west of the Peace River, south of Devil Lake and Surette Lake. There is an excursion in the Devil Lake and Surette Lake area, but is leading towards a change in fuels and burning conditions, that may slow down its progression.

The planned controlled ignition operations west of La Crete, west of the Peace River, began today around 2:30 p.m. and will likely continue into the evening, pending conditions remain in our favour. These conditions include the right wind speed, wind direction, relative humidity levels, the type of fuel or landscape that's being burned, and support resources to contain the burn (firefighters, helicopters and heavy equipment).

The trend for crossover conditions remains for tomorrow, as temperatures should reach 30 degrees with a relative humidity of 25-30%. Winds will be from the southeast at 10-15 km/hr., which may make visibility difficult on the fire and in surrounding communities.

Extreme fire behaviour is expected to continue for the next several days, with similar temperatures and relative humidity levels extending into next week. Please remain vigilant and aware of your surroundings while traveling near the fire.