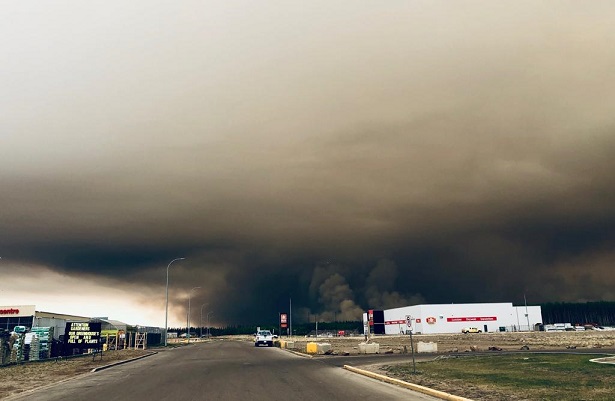 Photo: Mackenzie County firefighters
Fire officials are bracing for what could be a dangerous wind shift Sunday in High Level.
Summary
The Chuckegg Creek Fire remains approximately 3 km southwest of the Town of High Level. The last recorded size is approximately 105, 200 hectares.
Firefighters have completed a successful controlled burn technique to create a containment boundary along highway 35 south of High Level, highway 58 west of High Level and the fire perimeter, as weather conditions allowed firefighters to do so.
Heavy equipment has been working along the northeast side of the fire and they continue to make progress on making a guard around the fire perimeter.
Structural firefighters have also been taking preventive measures on homes. This includes removing debris from yards, removing patio furniture from decks and other flammable material.
There are 154 structural firefighters that continue to establish and maintain structural protection on homes in the Town of High Level and on other critical values at risk within Mackenzie County. Alberta Wildfire has 360, firefighters along with 28 helicopters on this fire. There are more resources arriving daily.
Fire officials are bracing for what could be a dangerous wind shift today in High Level.
The Chuckegg Creek fire is raging out of control about three kilometres southwest of the town, and has grown to just over 1,000 square kilometres.
More than 360 firefighters, including many who have come from outside Alberta, are on the fire lines and also in High Level working to protect property and infrastructure. They are supported by at least 28 helicopters as well as various types of heavy equipment.
The winds have been blowing the fire away from High Level, but the forecast is calling for a wind shift that could push the flames back towards the town. High temperatures and a lack of any rain in the forecast are also likely to increase the fire threat.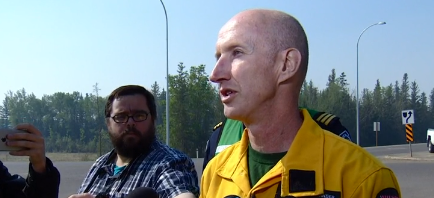 Alberta Wildfire incident commander Scott Elliott provided an update on the wildfire near High Level. Sunday
Elliott says that it is not safe for residents to come back yet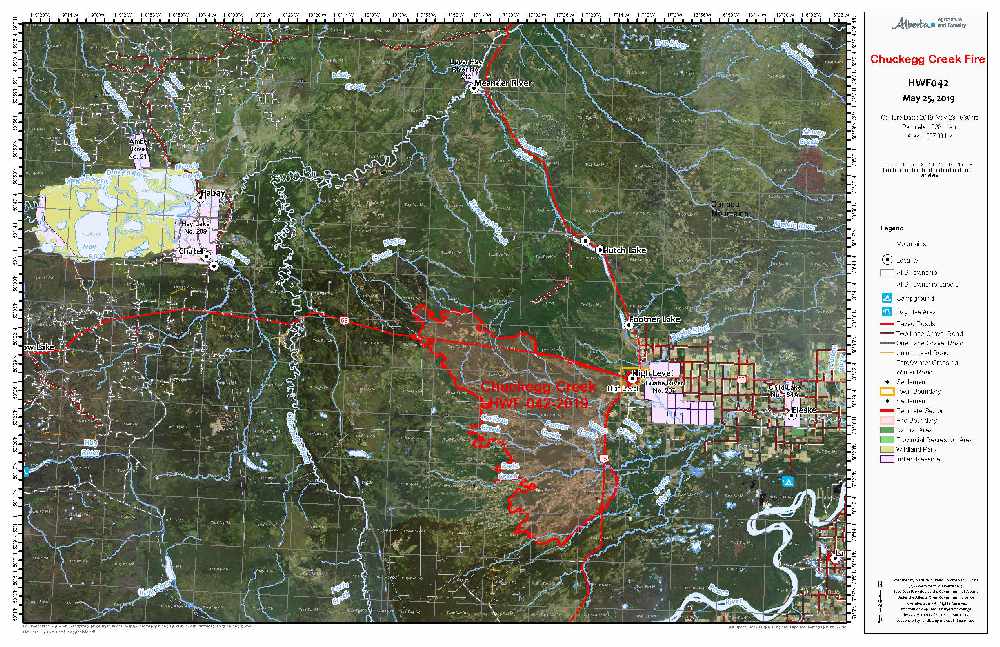 Evacuees can begin registering for their MyAlberta digital ID anytime and can apply for emergency payments beginning Sunday at noon. Funds can take up to 24 hours to flow into accounts. Debit cards will be available starting Monday for those who are unable to receive e-transfers.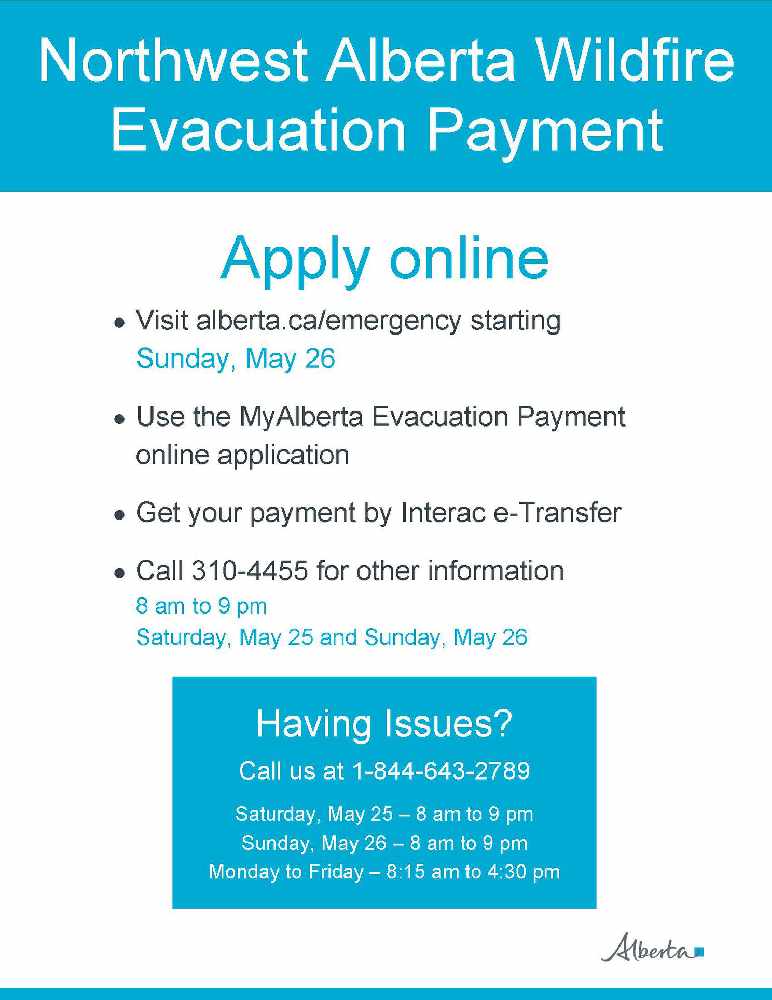 Treaty 8 donations are being accepted, things like gift cards, cheques or credit cards (we will also accept cash in person if you bring it directly to Treaty 8 office in Edmonton.
Needed:
Water
Baby Food/Snacks
Non Perishable Food Items
Toiletries
Liquid Baby Formula
Feminine Products
Diapers & Wipes
Paper plates
Cups
Utensils
Adult depends
Ensure
Hand sanitizer
Garbage Bags
Flashlights and Batteries
The main collection point for donations is:
Treaty 8 First Nations of Alberta Sub Office
18178 - 102 Ave NW, Edmonton, AB
1-888-TREATY-8
But we are also keeping the Treaty 8 Urban Office open in case that is more convenient for you:
Treaty 8 Urban Office
#200, 12310 - 105 Ave Edmonton, AB
1-844-504-1390