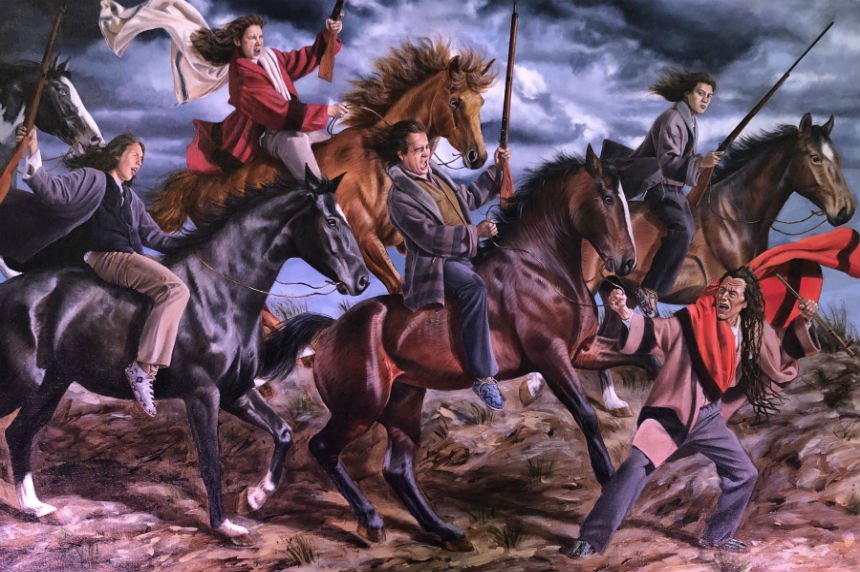 A painting done for Poundmaker Cree Nation by world-renowned, Winnipeg-based Cree artist, Kent Monkman, depicts Chief Poundmaker stopping his people from attacking opposing forces. (Submitted by Poundmaker Cree Nation)
"There was very little written about the fact that Poundmaker saved a lot of lives by stopping the warriors from counter-attacking the retreating colonel Otter and men, who were in big, big trouble"
It's been more than 130 years in the making.
Chief Poundmaker will be exonerated on May 23, when Prime Minister Justin Trudeau travels to Saskatchewan to mark the occasion.
Poundmaker was charged with and wrongly convicted of treason in July 1885 in Regina.
Poundmaker Cree Nation's Headman Milton Tootoosis said Chief Poundmaker needs to be remembered as a peacemaker, not a war chief.
He pointed out that Poundmaker saved many lives by stopping his men from attacking retreating Canadian troops in the battle of Cut Knife in 1885.
Tootoosis said that Chief Poundmaker was tainted in the history books, by journalists and historians, as a traitor.
"And they never did listen to or publish a lot about the First Nations perspective or from the First Nations perspective," Tootoosis added.
He said Poundmaker needs to go down in history not as a traitor, but as a hero.
In addition to the charges, the federal government took away the community's cows, horses and guns, which left people with little to live on. Many starved.
The community wasn't allowed to have another chief until 1919.
There will be a pipe ceremony, a grand entry of dignitaries, honour songs, a gift exchange, a cannon shoot to symbolize the Battle of Cut Knife and a moment of silence.