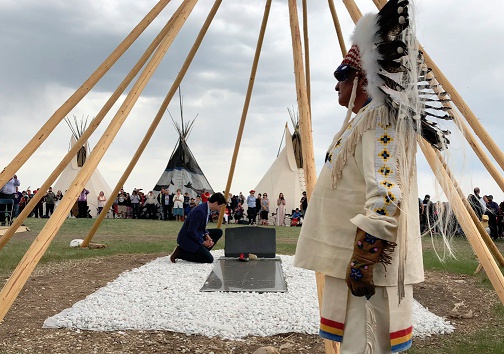 Poundmaker chief Duane Antoine looks on as PM Justin Trudeau puts down tobacco to show respect to chief Poundmaker. Photo: Government of Canada
Canadian Prime Minister Justin Trudeau is in Saskatchewan to exonerate Chief Poundmaker of treason
Prime Minister Justin Trudeau has exonerated a Saskatchewan chief of treason, more than 130 years after the conviction.
The exoneration of Chief Poundmaker was announced at the reserve that bears his name, Poundmaker Cree Nation.
Following prayers and traditional drumming, Trudeau told a crowd that the government must acknowledge wrongs of the past and that Poundmaker was unjustly convicted.
Check out Windspeaker.com's Photo Gallery
Pauline Favel, descendant of Chief Poundmaker said the exoneration goes a long way towards truth and reconciliation for Indigenous people.